One of the most common questions we receive in our inbox is how to buy US stocks from Dubai, UAE or can I invest in US stocks from Dubai, UAE.
First of all, you need to understand one important thing. There is a difference between owning the stocks and the CFD trade.
Many brokers offer stocks, but they actually sell the CFD (contract for difference), and you don't own the stock. You will be betting on the stock price movement; if you make a buy trade and the stock price goes up, you make money, and vice versa, but again, you don't own that stock.
We are not saying that owning the stocks is better than CFD trading. Actually, many people prefer CFD trading over buying the underlying stock because of the features CFD trading provides, such as leveraging your positions and the ability to sell the stocks (short) without the need of owning them.
However, in this article we are viewing the brokers that allow you to buy US stocks from UAE and own the shares.
To buy US stocks from UAE, you need to open a brokerage account with an international broker. Multiple brokers allow you to buy stocks while residing in the UAE.
List of Brokers:
*Note: This list doesn't necessarily cover all brokers in the market.
What is the Difference Between one Broker and Another?:
Brokers are not the same when it comes to the products they offer and the cost they charge; however, each has its pros and cons,. You need to understand what they offer to decide which one suits you the best.
Here are some of the major differences between the brokers:

• Commissions:
There are some brokers that charge trade commissions each time you want to buy or sell a stock. While some other brokers offer buying/selling the stocks with zero commission and without any fee.
This is one of the most important point to consider before choosing the broker.
To understand the impact of the trading fees, suppose that you are trading through a broker who charge a trade fee of $25 for buying and selling. If you want to buy a stock with $1,000, then you need to pay $50 as a transaction fees ($25 for buying the stock and $25 when selling the stock in the future), it means you are paying 5% ($50/$1000).
If the average annual profit to from the stock market is 8%, you will be getting only 3% since you have already been charged 5%.
• Minimum Deposits:
Some brokers don't require any minimum deposits to start your account, while others set a minimum amount to be deposited in order to activate your account. Fore example, Saxo Bank is a great broker that gives investors access to hundreds of products and financial instruments, but requires a $10,000 deposit for opening the account. So if you are not willing to invest that much, you need to search for some other brokers that don't require a minimum deposit such as eToro
eToro Service ARSN 637 489 466 Capital at risk. See PDS and TMD
• Account Opening Process:
Opening an account with some brokers is very easy and convenient, and the account verification process can be fast. In contrast, some other brokers require more documents, income proof, bank statements, and sometimes they require you to be physically present at their office to open the account.
Note: it doesn't mean that the more complicated the process is, the worst the broker is. In fact, some people prefer to go for such brokers because they feel more secure with brokers who have a high criteria of choosing investors.
Required Documents for Opening a Brokerage Account:
While required documents can be slightly different from a broker to another, however, the most common documents brokers require to buy US stocks from UAE are:
• Passport
• National ID
• Proof of address (can be a utility bill, bank statement with the address shown on it, tenancy contract).
Which Broker We Recommend:
Each of the mentioned brokers has its pros and cons. Also, there are many factors to consider before deciding on the broker, such as experience level, the platform's complexity, frequency of trades you place.
After carefully trying multiple brokers, we can recommend eToro for stock investing.
eToro offers a zero-commissions stocks (disclaimer: eToro Service ARSN 637 489 466 Capital at risk. See PDS and TMD. Other fees apply. For more information, visit etoro.com/trading/fees..
The platform is straightforward and user-friendly, especially if you are a beginner.
Whether you are starting your investing journey or you are an experienced investor, eToro is an exciting platform and available in more than 140 countries all over the world
Also, you can benefit from the social trading eToro offers. With social trading, you can check other people portfolios, what are they investing in, profit/losses percentage they are making, and you can choose to copy one or more, so whenever they place a trade, you will make the same profit/loss they are making based on the amount you copied them with.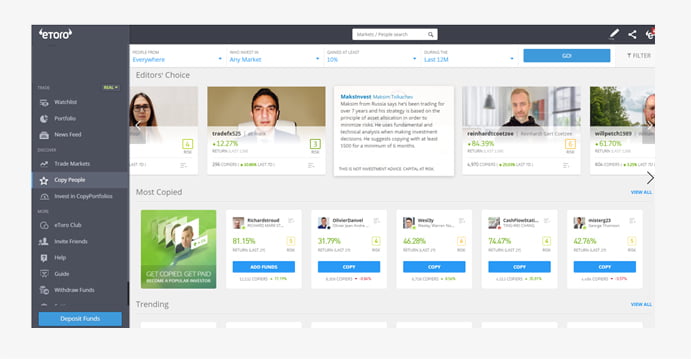 Past performance is not an indication of future results.
How to Setup Your Account and Invest in Stocks With eToro?:
Disclaimer: (eToro Service ARSN 637 489 466 Capital at risk. See PDS and TMD.)

Click here to visit eToro website, choose a username, email, password, read the terms & conditions, accept them if you wish and click Join now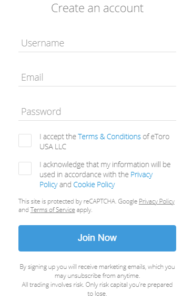 After pressing "Join now", an email will be sent to your inbox for confirmation, login and verify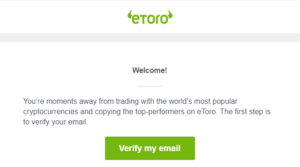 Once you verify your email, you will be able to login to your eToro platform. But at this point, your account is still not verified and there would be limitations on depositing and trading until you complete your profile.
Step 2: Verify Your Account
To enjoy a faster depositing and withdrawal, and trading with no limitations, you need to get your account verified.
Follow the steps of verifying the account and provide the required information that includes your personal details and proof of your identity and residential address.
Note: To verify your account, you need your passport and a valid utility bill to prove your identity and physical address.
After finishing the verification process, it will take eToro a couple of days to check the information and get your account fully verified.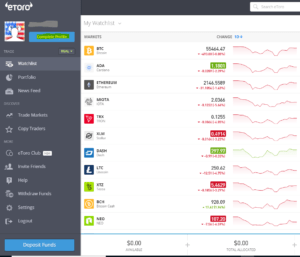 Step 3: Fund your account
Before you can start trading on the eToro platform, you need to fund your account.  You will be directed to the safe and secure eToro cashier page where you can make your deposit.
To fund your account, simply login using the username and password you created in Step 2 above, then click on the 'Login' button to proceed.
eToro accepts different types of payment methods including PayPal, Skrill, Neteller, Visa, MasterCard, WebMoney and more.
You must know that the minimum deposit is $50 and platform won't allow you to deposit less.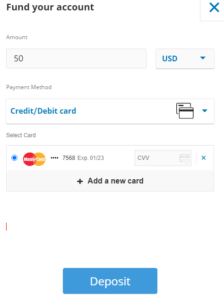 Step 4: Start investing!
Now you have your account verified and funded. It's time to start investing.
To search for the stock you are willing to invest in, go to the search bar and type the stock name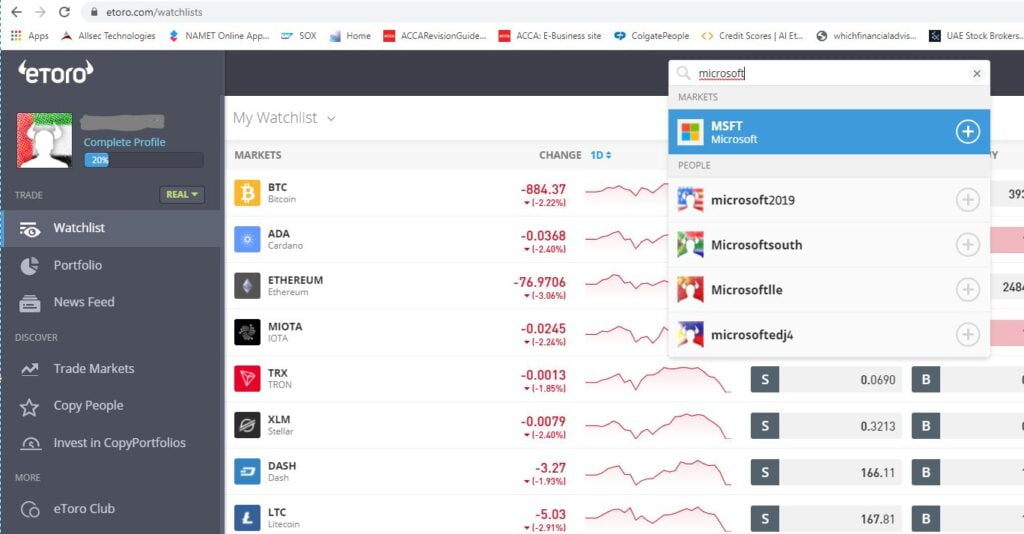 Choose that stock and then click "Trade", choose the amount you are willing to invest, and there you go!
It's important to remember that with eToro you can Fractional Share, meaning that if for example a stock price is $300, you don't have to pay the full amount to buy it.  You can buy a fraction and you may choose to invest only $100, so you will buy 0.33 shares.
Invest in US Stocks from UAE Through a Financial Advisor:
Another way of investing in the US stock market from the UAE is to use the help of a financial advisor. The benefit of using a financial advisor help is that they can help you to create a well-balanced and diversified portfolio based on your goal and risk apetite.
When to use the help of a Financial Advisor for Investing in stocks?
You can use the help of financial advisors if one or more of the following applies to you:
You don't have time to research the best stocks and to track your investments.
You don't have the basic knowledge of investing in stocks but still you want to grow your money in the stock market.
You are not a type of a person that commit for the long-term if you invest by yourself.
You are an emotional investor and you get panic quickly when markets tumble.
How much it costs to invest in stocks through a Financial Advisor in the UAE?
Even though charges vary from an advisor to another, however, the average charge can be somewhere around 0.1% – 0.2% monthly on your assets. In other words, if you invested $5,000, the monthly charge will be around $5 to $10.
If you want to have a discovery call with one of our recommended financial advisors, drop us an email on

info@thefinancedean.com
Bottom Line:
There are multiple brokers that enable you to  buy US stocks from UAE, and each of them has pros and cons and  some unique features that give them a competitive advantage over the other brokers, so it's highly recommended to do your research and choose the broker who suits you most.
Disclaimer: eToro Service ARSN 637 489 466 operated by Gleneagle Asset Management ACN 103 162 278 AFSL 226199 and promoted by eToro AUS Capital Limited ACN 612 791 803 AFSL 491139. Investing in shares via a managed investment scheme does not result in direct ownership of the underlying assets. The shares are held on your behalf. Non transferable. Your capital is at risk. Zero commission is only available on limited stock exchanges. All other shares are offered as OTC Derivatives, and include commission. This information is general only and has been prepared without taking your objectives, financial situation or needs into account. You should obtain independent advice and consider our Product Disclosure Statement and Target Market Determination (PDS and TMD) before transacting. See full disclaimer.
eToro USA LLC does not offer CFDs and makes no representation and assumes no liability as to the accuracy or completeness of the content of this publication, which has been prepared by our partner utilizing publicly available non-entity specific information about eToro.
Leave a Reply