If you are based in the UAE and looking to invest in stock market, then you must have probably heard about Sarwa.
We also received many emails asking about Sarwa, whether it's a good and trusted company or not, so we decided to try it ourselves and write about our experience.
In this article, we will review Sarwa UAE, and you will be able to decide whether Sarwa is good option for you or not!
At the end, we will mention what we liked vs what we didn't like about Sarwa. So let's dive in!
✅ Special Offer If you Register Through Us:
Get $50 deposited to your account immediately once you sign up and get verified
First, What is Sarwa and What Do They Do?:
Launched in 2017, Sarwa is an online investment solution. Started as a stock investing robo-advisor, where investors set their goals and risk appetite, and the "robot" will allocate their money into a low-cost index funds and ETFs that can achieve their goals, and automatically make periodic adjustments, with no need for any manual interaction from the investor. This auto-investing feature is called Sarwa Invest
Lately, they launched Sarwa Trade, where investors can buy stocks and ETFs themselves with zero commission.
Sarwa partnered with Saxo Bank, since Saxo is regulated as a bank by the top regulators in the world, this helped Sarwa to ensure investors get maximum security and transparency.
Sarwa gained popularity in the region and quickly became the leader in the robot-advisory business in the region.
Their goal since the beginning was to help investors get simple and affordable investment opportunities by marrying technology and proven investment strategies. As such, they leverage algorithms to find ideal bonds, ETFs, and shares that better suit your preferences and appetite for risk. 
In the below short video you can see how your portfolio is automatically adjusted according to the change in your risk profile
Sarwa Invest vs Sarwa Trade:
Sarwa offers two types of investing styles. Sarwa Invest and Sarwa Trade.

Sarwa Invest
Sarwa invest is an auto-investing service that enables users to invest in diversified portfolios of ETFs and index funds as per their risk profile using the technology of robo-advisory.
During the sign-up process, the platform asks users some questions  about their risk profile, how long they are willing to invest and what is their target from investing and some other questions. According to the users' answers, Sarwa automatically builds an ETF and index funds portfolio. This portfolio is adjusted frequently as per market conditions.

Some cool Features we found on Sarwa Invest:
Auto Deposit: in Sarwa invest, users can choose "auto deposit". Auto-deposit will deposit funds and automatically invest them into your portfolio. You decide 'how much' and 'how often' you'd like to AutoInvest.
Reinvesting Dividends: By enabling this feature, any dividends get reinvested immediately back into user's' portfolio so they can benefit from the compounding.
Human Advisors: Sawra invest enables users to periodically book a free call with one of their financial advisors to help them plan their financial future and answer their questions.

Sarwa Trade
On the contrary, Sarwa Trade is not an auto-investing tool, it enables users to trade thousands of US stocks and ETFs themselves with Zero commission and zero transfer fees for local accounts. It's simple, affordable, and accessible to anyone looking to trade in a safe and regulated environment.
Sarwa Trade doesn't use robot-advisory since users trade stocks themselves.
Some cool Features we found on Sarwa Trade:
Zero commission trading
Zero cost UAE local transfers in AED
Fractional shares: buy in bulk or in fraction
No account minimums
Access to 4,000+ US listed stocks and ETFs

Is Sarwa Safe? Regulations and Money Custody:
We researched their regulations and licenses and found out that they are fully regulated and they fall under:
Dubai Financial Services Authority (DFSA) – see below screenshot from DFSA website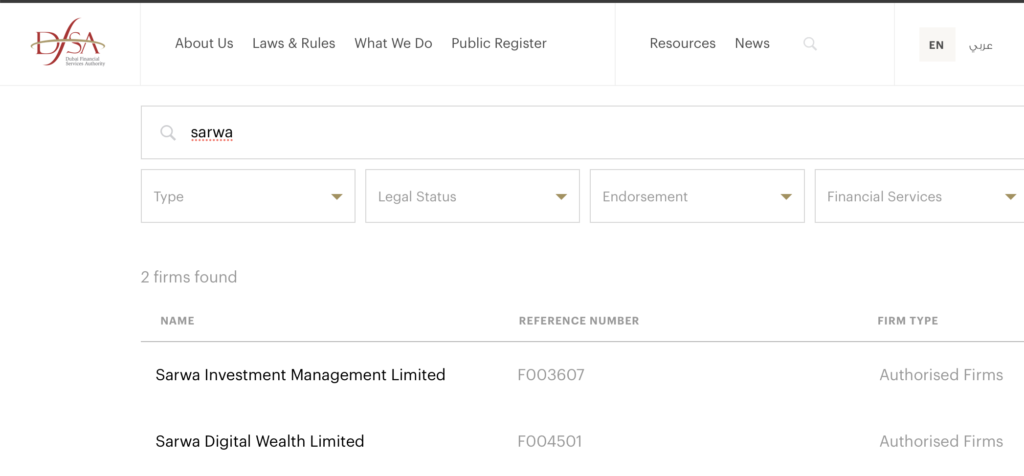 Financial Services Regulatory Authority of Abu Dhabi (FSRA) – see below screenshot from FSRA website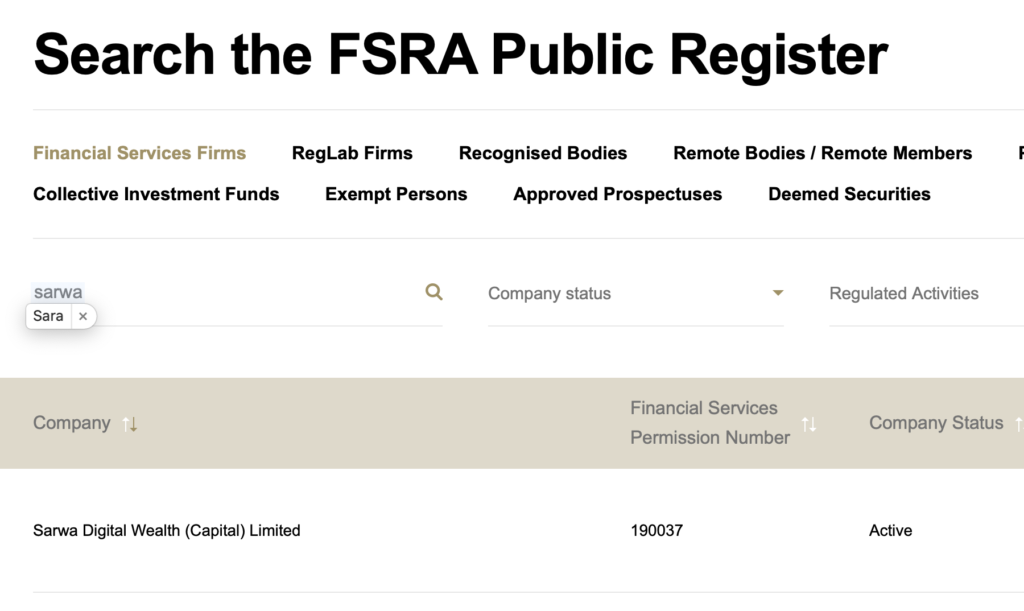 These bodies are governmental institutions responsible for ensuring that all brokers operating in these parts follow the rules and regulations. This makes it easy for clients to trade with confidence, knowing that they will be protected if something goes wrong, and so one is cutting corners.
The firm has also received an Investor Compensation Fund license from DFSA, which means that the UAE Central Bank covers it. Knowing this makes it easier for investors to join the company since they know their money is safe if something goes wrong.
When you invest with Sarwa, your assets are held in a custodian account at the Denmark-domiciled Saxo Capital Markets, where they ultimately sit with custodians such as Citibank. The EU Banking and Investment Directives are incorporated into Danish laws.
To summarize, the information mentioned above makes trading with Sarwa safe.
✅ Special Offer If you Register Through Us:
Get $50 deposited to your account immediately once you sign up and get verified
Account Types:
Sarwa Invest (the robo-advisor) doesn't have a lot of restrictions or classifications on the types of accounts. This way, you can operate with as much money as you are comfortable with. 
Sarwa offers various account types that cater to different needs on the investment side of things. These include:
Starter account
This is the basic account. This account is free for one year. Here you also get one free call for personalized financial advice, low-cost, globally diversified portfolios, dividend reinvesting, one free call to an expert financial manager.
Standard account
This is the next level with everything the starter account has with more perks. For instance, we also get lower advisory fees, financial planning, and personalized financial advice.
Premium account
This account is for those who want to trade with even more benefits. In addition to the features of the other two accounts, we get a higher level of customer service and exclusive access to investment products and services.
Platinum accounts
This is the topmost level of account that Sarwa offers. Here we get everything from the previous three with additional benefits such as priority telephone support and extra online trading tools, among others.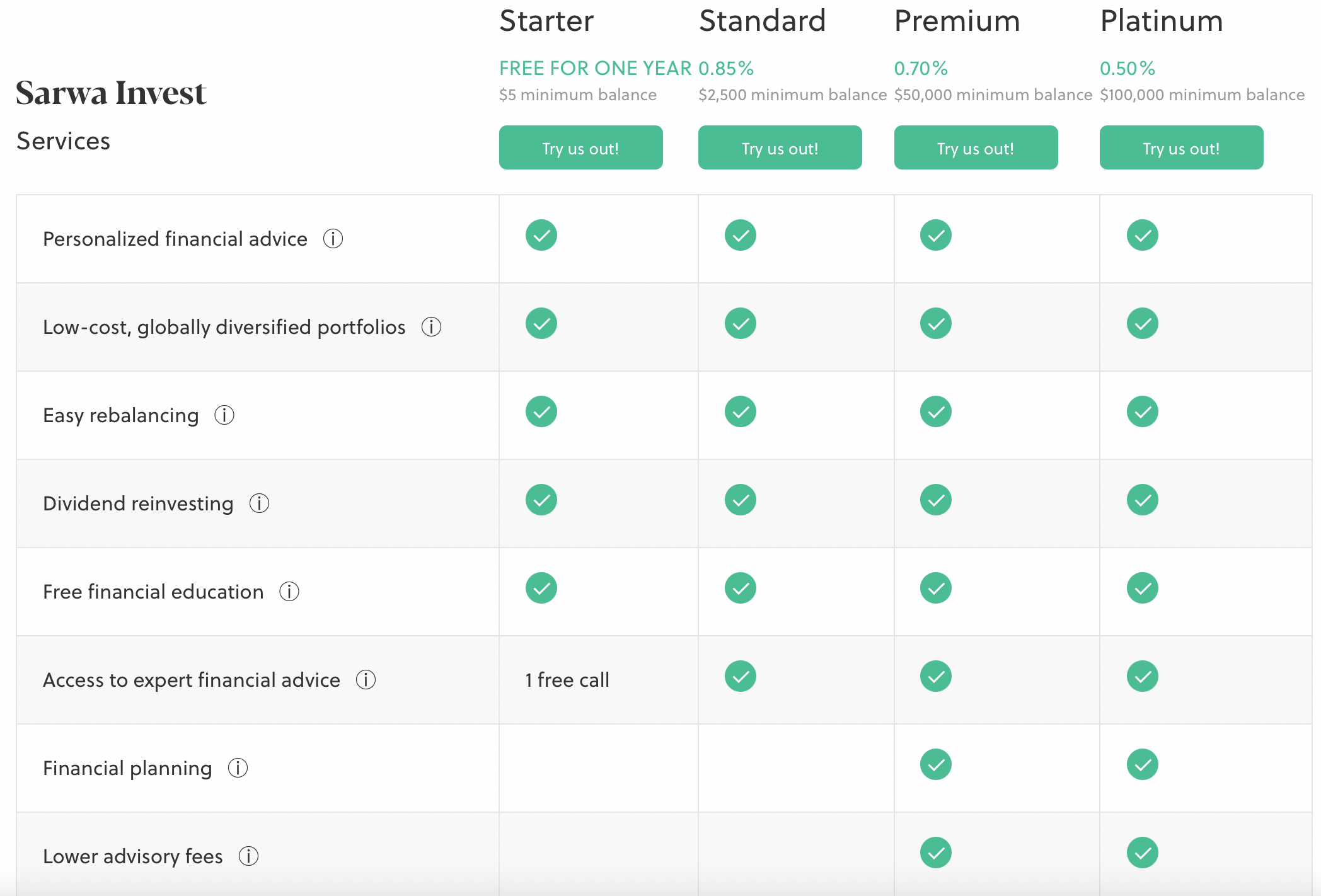 What Portfolios Can You Choose with Sarwa?:
Sarwa provides a way for all their customers to personalize their portfolio just how they like. As such, they have a variety of options such as:
Conventional Portfolios
These are suited for those who want to maintain a certain level of risk and reward. Such portfolios include Blackrock and globally diversified Vanguard ETFs, which represent all sectors in all industries in the world.
Example on a moderate-risk Conventional Portfolio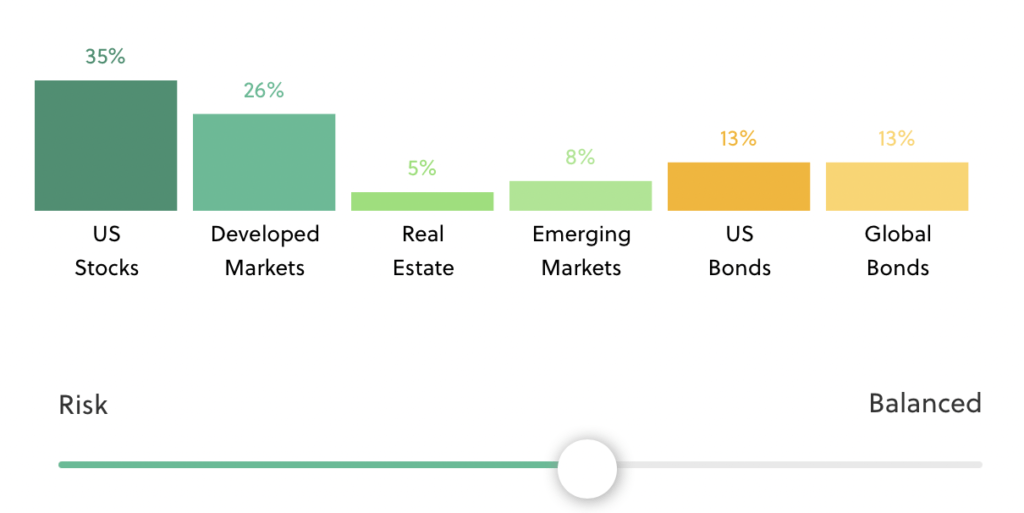 Socially Responsible Investing Portfolio
Socially Responsible Investing (SRI) is for those who want to invest in environmentally friendly companies, protect human rights, or have a positive social impact. Essentially, companies that reflect the client's values are working for the betterment of the world as much as profits. We took a look at the best and most ethical companies around the globe. We looked for those who have had positive environmental and social records and those who aligned with their values.
Example on a moderate-risk Socially Responsible Portfolio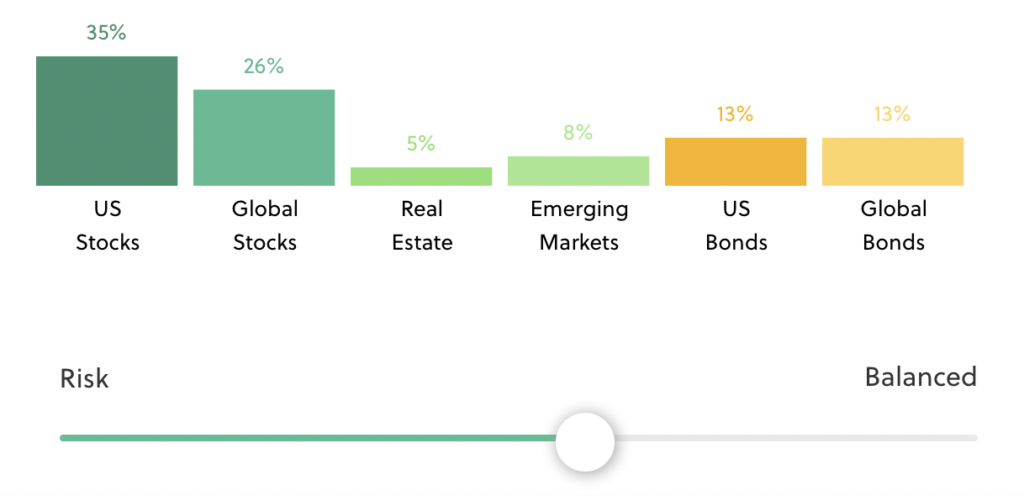 Halal Portfolio
Halal investments are for Muslim investors who want to invest in Sharia-compliant products. It includes stocks, indices, commodities, and currencies that comply with Islamic law of not profiting from interest, gambling, alcohol, etc. This means getting sharia compliment ETFs and mutual funds. 
Sarwa looks for good opportunities in non-halal portfolios such as real estate, equities in the US, fixed income, global developed world equity, etc. Then, they find ETFs that fit specific criteria and invest under each category.
Example on a moderate-risk Socially Responsible Portfolio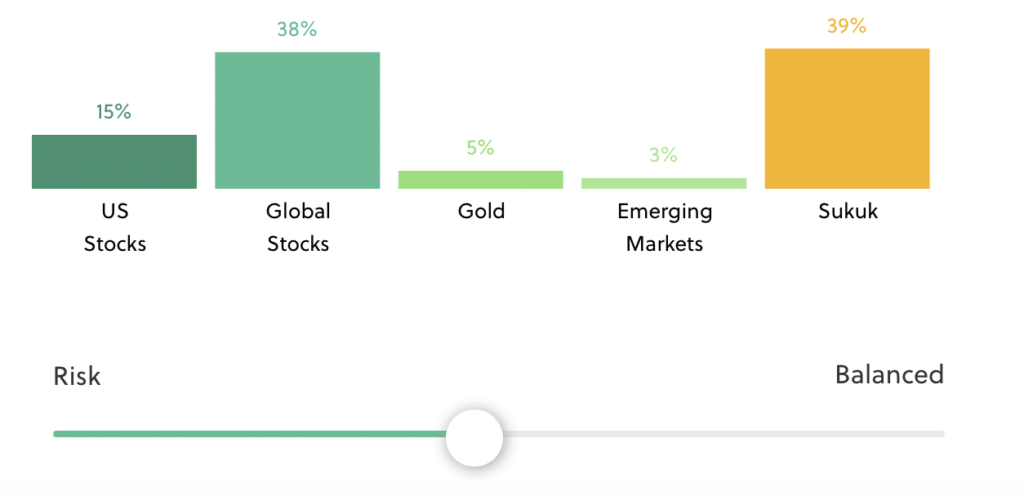 Crypto Portfolio
Crypto portfolio is for those who want to have an exposure to digital currency market as a part of their portfolios. It includes Bitcoin and Ethereum. Diversification provides new income sources and upward potential, thus minimizing the risk.
Example on a Medium-Risk Crypto Portfolio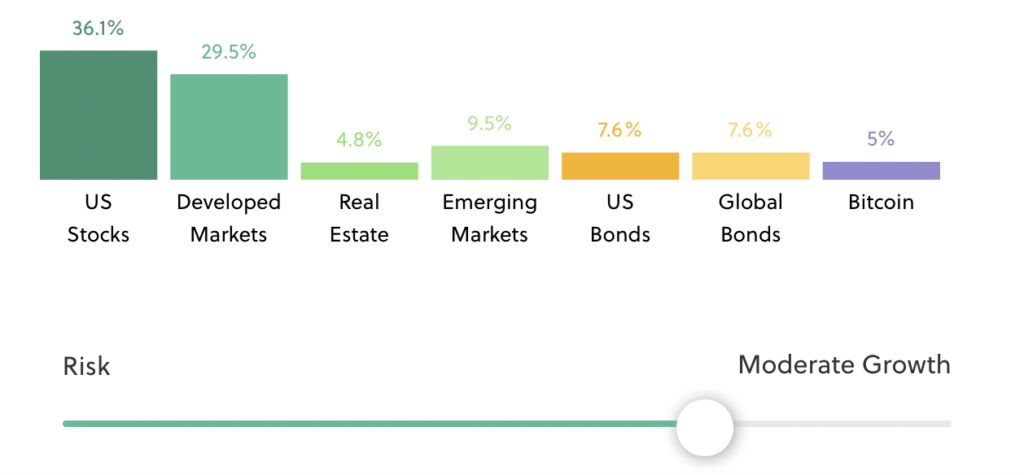 Sarwa Historical Returns:
Sarwa mentions on their website that an optimally diversified portfolio of ETFs is expected to generate between 3-8% net of cost returns, depending on how much risk you're willing to take. However, according to the below chart that mentioned on their website, they have delivered a decent returns ranging from 4%-11%

Moreover, In 2020, Sarwa invest outperformed the benchmark in all risk profiles for the period from Jan 20 to Aug 20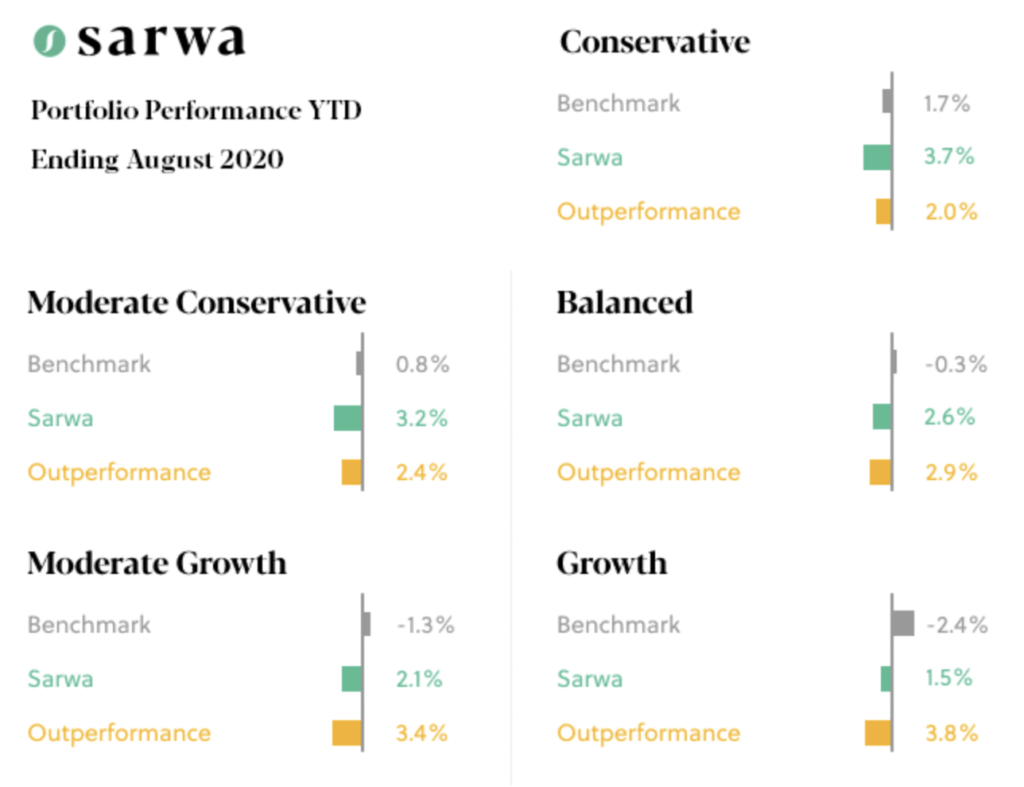 How Your Dashboard Will Look Like:
When you sign-up to Sarwa invest, and deposit money, your funds will be allocated into different investments such as stocks, index funds and ETFs. Here you can see a screenshot and an example of how your portfolio might look like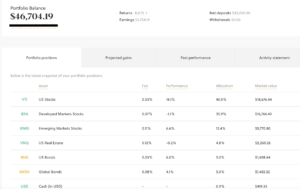 In our opinion, the dashboard is one of the best we've ever seen. It provides investors with all details about their portfolio such as returns, earnings, funds allocated, performance and fees.
Moreover, through your dashboard, you can see your projected gains as per the historical performance of the fund they've chosen for you.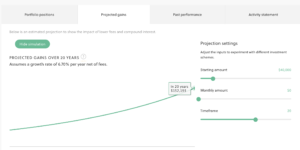 ✅ Special Offer If you Register Through Us:
Get $50 deposited to your account immediately once you sign up and get verified
Minimum Deposit:
The minimum deposit changes from a portfolio type to another, and depends on the nature of the investment.
Conventional investment: requires a minimum of $5.
Halal plan: requires a minimum of $500 to start investing.
SRI portfolios and Crypto: requires $2500 as a minimum before you can start transacting!
As for the account types, also the minimum deposit differs from an account to another:
Starter account needs a $5 minimum balance.
Standard account needs $2,500 as a minimum.
Premium account will need $50,000 to operate.
Platinum account requires $100,000 minimum but also has its suite of advantages, as highlighted above.

Sarwa Fees:
The fee structure at Sarwa varies depending on the account type
Starter account: there are no commissions here, and also the advisory fees are waived for the year. However, ETFs do attract a 0.25% fee.
Standard account: This is a bit friendlier to the investor since it requires an advisory fee of 0.85% and an ETF fee of 0.1%, which is quite fair.
Premium account: this is one of the most expensive accounts and requires a yearly advisory fee of 0.7% and an ETF fee of 0.15%.
Platinum Account: this is the highest-end investment account on Sarwa. The account owners get the most favorable conditions boasting a 0.5% advisory fee and 0.15% ETF fees.
After going through these numbers, we can see that this service is considerably cheaper than most investment firms out there, making it an excellent choice for everyone, including those who are low on budgets and even high net worth individuals.
Customer Support:
We approached Sarwa customer support and they were very responsive. They are available on the telephone or WhatsApp from Sunday to Thursday, 10 am to 5 pm. You can also get them on social media. They have official pages on Facebook, LinkedIn, Twitter, and Instagram.
Also, it's important to mention that what makes them unique in our opinion is that they have a human on the live chat, while most of other companies use AI and bots to handle customer care.
What We Liked vs Didn't Like:
At The Finance Dean, we tried almost all trading platforms in the UAE ourselves, hence we built a solid standards to evaluate platforms and brokers.
Below you can see our opinion on what we liked vs what we didn't like about Sarwa.
What We Liked:
Auto investing (robot-trading) in Sarwa Invest is a great feature for long term investors, people who don't know/want to trade by themselves and people who don't have time to follow news and read charts and financial figures.
Having a dedicated financial advisors that people can consult with for free is a unique feature that not many other companies offer
Low fees broker
It's very simple to fund accounts
Customer support is very responsive and available
The onboarding process is very clear
Dashboard and trading app is user-friendly and self explanatory
What we didn't like:
Actually, we didn't find much disadvantages since we really enjoyed the platform, however, below are the areas to be improved in our opinion:
Training materials are not up to the industry standard and can be improved.
After we submitted our documents, getting verified took a bit longer time than expected
Conclusion & Bottom Line :
Currently there are many investing brokers competing in the UAE, and each of them is trying to offer some unique features to gain a higher market share.
Sarwa is relatively new broker but they are rapidly growing and gaining popularity.
We do believe that Sarwa is safe to invest with, and we really enjoyed our overall experience with Sarwa, therefore, we came to a conclusion that we highly recommend using Sarwa if you fall under one of the following categories:
Long-term investors that are not willing to actively invest, they just put money and wait for it to grow
Beginner with no experience in investing and need help with setting your investing portfolio
A busy person and don't have time to follow the news and analyze stocks/ETFs, but yet you want to be invested in the stock market

✅ Special Offer If you Register Through Us:
Get $50 deposited to your account immediately once you sign up and get verified