If you are based in the UAE and looking to invest in stock market, then you must have probably heard about Baraka.
Many people want to know whether is it a good and reliable investing app or not, therefore we have decided to try it ourselves and write about Baraka Review as per our experience.
In this article, we will review Baraka UAE, and you will be able to decide whether Baraka is good option for you or not!
At the end, we will mention what we liked vs what we didn't like about Baraka. So let's dive in!
✅ Special Offer:
DON'T REGISTER TO BARAKA FOR FREE!! Get $50 deposited immediately to your account simply by using code E4Z4WR when you sign up!
First, What is Baraka and What Do They Do?::
In August 2021, Baraka  announced the official launch of its zero-commission mobile investment app after receiving regulatory authorisations from the Dubai Financial Services Authority (DFSA) in June 2021.
The baraka app, which is now available to download for users across select GCC markets, provides free access to over 5,000 US-listed securities, including stocks, Exchange Traded Funds (ETFs) and fractional shares with no minimum investment requirements.  In addition, the app features a simplified dashboard for investors to monitor and track their portfolio, a content hub that includes baraka's daily market news, and an investment academy for users to build and test their knowledge.  For more savvy investors, baraka also offers the option of a paid tier that includes world class equity research from industry partner, Refinitiv.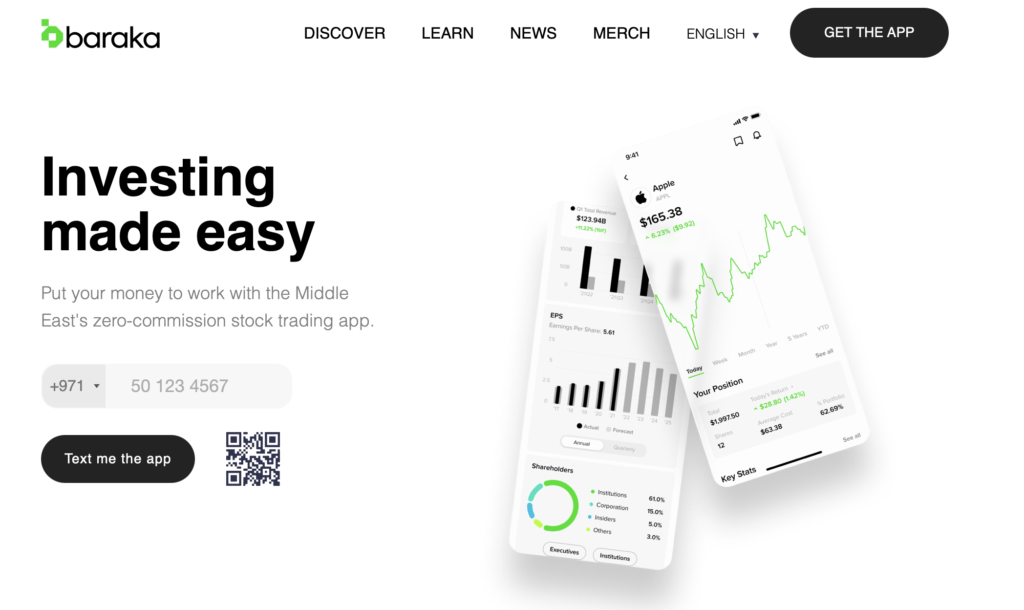 Is Baraka Safe? Regulation:
Zero-commission investment platform baraka secured regulatory approval from the Dubai Financial Services Authority to operate in the UAE.
We have researched the company ourselves and we can assure that the company regulation claim is correct. They are approved and registered in the DFSA (Dubai Financial Service Authority) under number F006586.

✅ Special Offer:
DON'T REGISTER TO BARAKA FOR FREE!! Get $50 deposited immediately to your account simply by using code E4Z4WR when you sign up!
How is Baraka Different From Other Investing Apps? :
Similar to multiple other investing apps, Baraka provides a commission-free stock investing platform. However, we found two things that are difference about Baraka and that make them stand out versus their competitors such as Sarwa.
1. The daily Newsletter
Baraka offers really great daily newsletter. They provide tons of information about famous companies, stock market updates, new IPOs coming and many more update. They Also present the news in a cool and simple way that keep readers interested.
2. The Theme Investing
Baraka classifies stocks in themes, which makes it easier for investors to choose the stocks based on the industry/theme.
Some of the themes they show:
UAE Back Stocks (Boeing, Moderna, Honeywell,…)
Metaverse Stocks (Nvidia, Coinbase, Nike,…)
Dividend Stocks (McDonald's, Pepsico, JPMorgan,…)
↓ Screenshot from the app ↓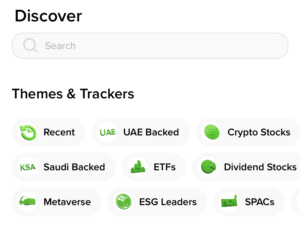 Baraka Account Types:
There are currently 2 tiers of accounts on Baraka.
General Investment Account
this account type is free to open and provides you with all the tools you need to invest commission-free – from 4500+ US stocks and exchange traded funds, portfolio and watchlist views, and academy for investment learning, to news and insights.
Premium Account
You can elect to advance to the premium tier, which will unlock access to up-to-the-minute analysis, insights, stock alerts and much more, powered by data from Refinitiv, one of the world's largest providers of financial markets data and infrastructure.
Required Documents to Open Baraka Account:
In order to set up your baraka account, you will require a form of documentation to verify your identity. This can either be your passport, identification card, or driving license.
You will also need to provide a proof of address. Inputs include your country of residence, city and street address, and your postal code. To verify your address, you can provide either one of the following documents with your full name and residential address (no PO boxes):
Recent utility bill (DEWA, SEWA. or FEWA, for instance)
Tenancy contract (or Ejari)
Telephone bill (mobile bills will not be accepted)
Bank statement
Baraka Fees:
With baraka, you can expect complete transparency and no hidden fees or charges.
Stock & ETF Trading Fees
The baraka application is free to use. With baraka, you can invest in 5,000+ US stocks, and exchange traded funds (ETFs) commission-free, meaning zero fees when you buy or sell stocks on baraka.
Deposits & Withdrawals Fees
Baraka does not charge any account funding fees (unless your bank does), or account management fees. A flat fee of $25 will be charged  for all withdrawals.
✅ Special Offer:
DON'T REGISTER TO BARAKA FOR FREE!! Get $50 deposited immediately to your account simply by using code E4Z4WR when you sign up!
Minimum Deposit:
There is no minimum deposit to start investing through Baraka. You can start with as little as $1.
What we Liked vs Didn't Like:
At The Finance Dean, we tried almost all trading platforms in the UAE ourselves, hence we built a solid standards to evaluate platforms and brokers.
Below you can see our opinion on what we liked vs what we didn't like about Baraka.
What We Liked:
The education and daily news that Baraka provides is very well-presented and rich in useful information that helps investors to take decisions. Every working day investors receive an email from Baraka keep them up to date and informed about the new events and news and explaining to them "why it matters"
The "Theme-investing" that Baraka offers makes investing more interesting and appealing especially for those who are unsure which stock to invest it.
What We Didn't Like:
Onboarding time and getting our account verified took very long time (more than 2 weeks). It's way above the average onboarding time vs its competitors.
Currently the only way to fund the account is by connecting Baraka to your bank account which makes some people uncomfortable. Credit/Debit cards are not acceptable yet in the platform at the time of writing this review.
✅ Special Offer:
DON'T REGISTER TO BARAKA FOR FREE!! Get $50 deposited immediately to your account simply by using code E4Z4WR when you sign up!
Conclusion & Bottom Line:
Recently, many investing apps have made their way through to the UAE market, especially the zero-fees apps. This Variety is putting pressure on companies and their app development to provide more unique and creative features, such as the ETF robot investing of Sarwa, social investing of eToro and Themes investing of Baraka.
(Etoro Disclaimer: AFSL 491139. Capital at risk. See PDS and TMD)
Thanks to the diversity in brokers and creativity of products they are providing, the end-users (investors) has benefited from this competition and investing in stock market has become cheaper and simpler.