Top Takeaways for 2022:
Here are our top findings on Bitoasis:
Bitoasis has been in the UAE market since 2015

Bitoasis has an office in Dubai Silicon Oasis
Bitoasis currently works in the Gulf countries only.
Traders can easily deposit and withdraw money from Bitoasis to UAE bank accounts

Bitoasis has high trading fees compared to other exchanges

Bitoasis has limited crypto trading pairs
✅ Special Offer If you Register Through Us:
Get AED 100 deposited to your account immediately once you sign up and get verified
BitOasis Overview:
Established in 2015 and Headquartered in the UAE, BitOasis is a leading cryptocurrency platform in the MENA region.
BitOasis is a popular crypto exchange. It supports Bitcoin, Ethereum, Ripple, Bitcoin Cash and Litecoin and more cryptocurrencies. It is a user-friendly platform that suits traders at all levels.
Bitoasis focuses only on Gulf countries residents, that includes the United Arab Emirates, Bahrain, Oman, Kuwait, Saudi Arabia, and Qatar.
Is BitOasis Regulated:
The short answer is: not yet. However, BitOasis has been granted a Financial Services Permission (FSP) from the Financial Services Regulatory Authority (FSRA) in the Abu Dhabi Global Market (ADGM) and is currently working towards the migration of its operations towards launch in ADGM.
BitOasis received final approval from the Financial Services Regulatory Authority (FSRA) in April 2021 and is currently in the process of going fully operational as a virtual asset multilateral trading facility (MTF) and custodian regulated by the FSRA.
What Can You Trade with BitOasis?:
BitOasis has relatively limited crypto pair option compared to main competitors such as Binance. However, the pairs they offer cover the most popular cryptocurrencies. Here is a list of Cryptocurrencies you can trade on BitOasis as of the time of writing the review;
Bitcoin BTC, Ethereum ETH, Bitcoin Cash BCH, Ripple XRP, Litecoin LTC, Stellar XLM, EOS, OMG, ZRX, BAT, Algorand ALG, USDT, NEO, XTZ, LINK, DAI, MKR, KNC, UNI, Yield Finance YFI, BAL, COMP, DODGE, AAVE, BNT, ENJ, LRC, Decentraland MANA, STORJ, SUSHI, USDC, WAVES.
Core Buy/Sell vs Pro Exchange:
When it comes to buying and selling Crypto through Bitoasis, you have 2 options:
Core Buy/Sell
Pro Exchange
❖ 
Core Buy/Sell
This is the simple and easy way to buy Crypto. Using this feature, traders can only buy and sell through Dirhams or Saudi Riyals, and they can't trade between Cryptos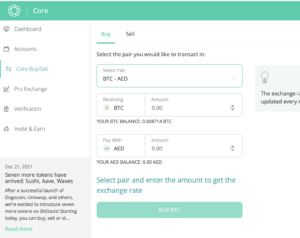 ❖ 
Pro Exchange
The pro exchange feature is more advanced than the Core Buy/Sell. It allows traders to trade and switch between Cryptocurreinces, as well as trading with fiat currencies. For instance, traders can switch Bitcoin to Algorand through the pro exchange, while they can't do this through the Core Buy/Sell as the Core feature only allows trading currencies to crypto, not crypto to crypto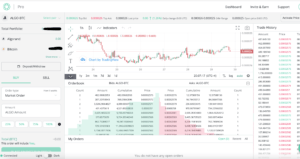 BitOasis Fees:
BitOasis is an expensive exchange compared to its peers. However, we believe that they are charging higher fees because of the competitive advantage they are offering to their traders, which is the instant deposits and withdrawals to UAE bank that no other competitor is able to offer yet.
Below you can see in-depth information about BitOasis fees so you can be comfortably aware of what you are paying for each transaction.
❖ Deposit Fees
Deposits via Bank Transfer
BitOasis charge no commission for depositing by transferring money from your local bank in UAE to the exchange
Deposits via Credit/Debit Cards
If you chose to fund your account via a credit/debit card, you will be charges a 3.67% fee. Also, please note that your card issuer may charge you foreign exchange or cash advance transactions.
❖ Trading Fees
If your trading volume is lower than AED 1,000,000 per month, then you will be charged a 0.25% per trade if you are a market maker, and 0.5% per trade if you are a market taker.
If you are confused what market maker and market taker are, don't worry, we will explain it in a very simple way.
You become a market maker when you place buy/sell orders on a certain price (limit orders). For example, the price of Bitcoin is $52,000, but you put an order that you want to buy 1 Bitcoin at $50,000. This is added to the order book, and it will be filled when the price reaches $50,000. In this case, you are a market maker because you are providing liquidity to the order book.
You become a market taker when you place buy/sell orders on the current price of the market (market orders), and you don't choose a certain price for your transaction to be executed on. In this case, you are considered a market taker because you are taking from the liquidity of the exchange.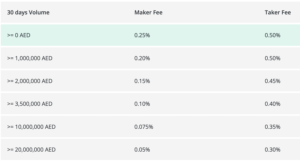 ❖ Withdrawals Fees
BitOasis charges 65 AED per withdrawal order for local withdrawals (within the UAE), and the same charge 65 AED for international withdrawals.
Opening Account & Verification:
Opening account with Bitoasis is very simple and straight forward. If you register through this link, you can get AED 100 deposit immediately to your account and you can start trading with that AED 100.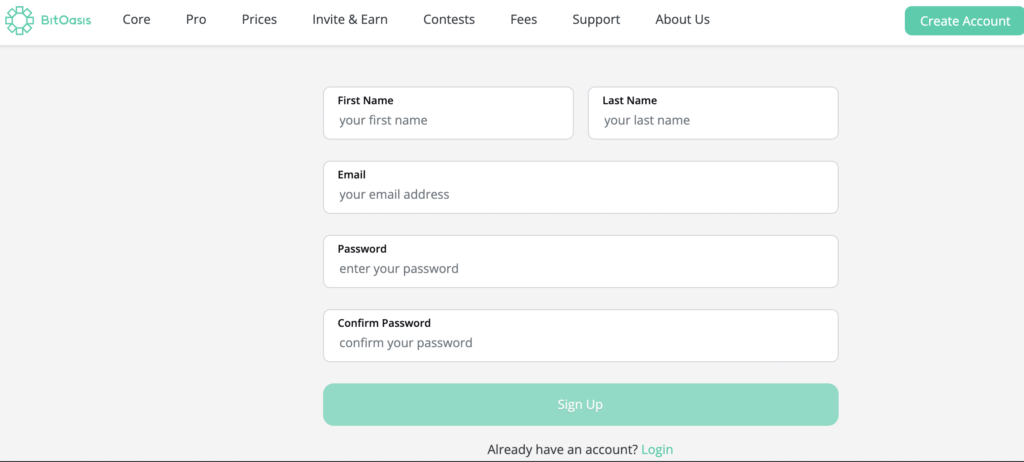 To start trading with Bitoasis, you need to be verified.
For the verification and KYC (Know your customer), Bitoasis has 3 Tiers, and the only difference between the tiers is the deposit & withdrawal limits.
Tier 1: Deposits & Withdrawals are limited to AED 100,000 per week
Tier 2: Deposits & Withdrawals are limited to AED 200,000 per week
Tier 3: Deposits & Withdrawals are not limited
Each tier have different documents requirements. The below image shows the requirement for each Tier.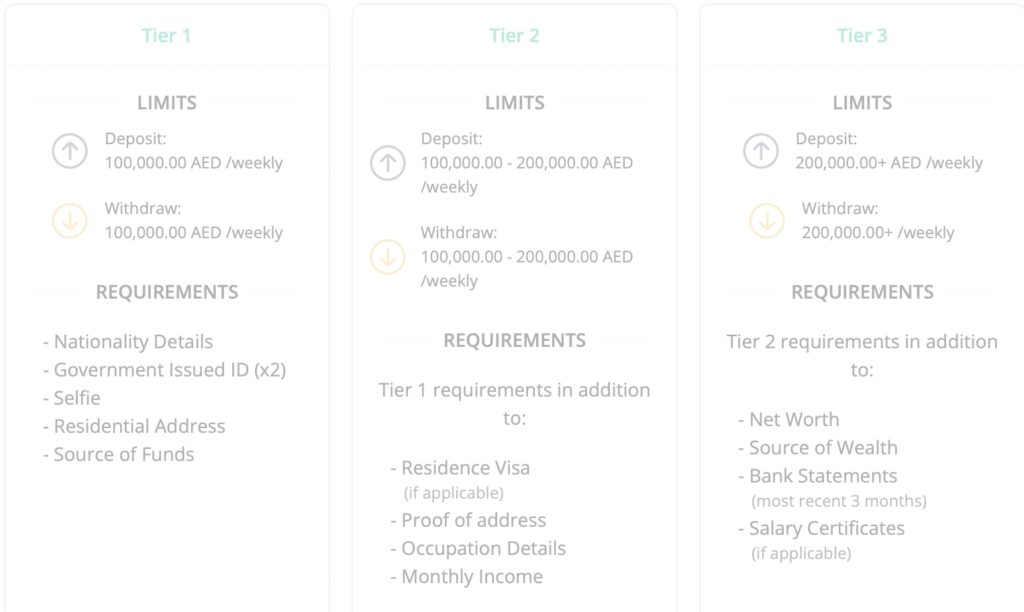 Deposits & Withdrawals:
Bitoasis made Deposits & Withdrawals simple. You can deposit either by:
Debit Card
Credit Card
Bank Transfer
As we mentioned in the "Fees" section, deposits from Debit and Credit cards are subject to 3.7% deposit fees, while bank transfer deposits are free of charge.
You can simply deposit by clicking "deposit" from your "Accounts" section

The withdrawal process is same as deposits. Users can withdraw their money directly to all UAE banks except for Mashreq bank and Arab bank (as the time of writing this review).
Customer Service:
Bitoasis customer service can be reached by email help@bitoasis.net
We had multiple questions and concerns, and when we approached their customer car, they were quite responsive and helpful. However, the response time was slightly longer than expected.
What We Liked vs Didn't Like:
At The Finance Dean, we tried majority of crypto trading platforms in the UAE ourselves, hence we built a solid standards to evaluate exchanges.
Below you can see our opinion on what we liked vs what we didn't like about Bitoasis.
What We Liked:
Easy and user friendly exchange
Simple banking transactions in terms of deposit/withdrawals which give Bitoasis a big competitive advantage compared to all other exchanges that work in the UAE market
Verification process is fast
Customer support is responsive and helpful
Bitoasis keeps on adding new currencies and token frequently
The Core Buy/Sell features is very simple and straight forward
What We didn't Like:
Trading fees are high
Limited crypto pairs compared to Binance
Withdrawal fees are high
Conclusion & Bottom Line:
Each exchange has its own pros and cons, and when it comes to deciding on which exchange to use, it all depends on what are you looking for.
you are looking for a smooth banking (deposits and withdrawals), simple and straight-forward exchange, then Bitoasis would be a great option.
However, if you want an exchange. with very wide range of Crypto pairs, then you might want to consider other options. Even though the Crypto Paris that Bitoasis offers cover the basic and the popular ones, there are traders who like to have more variety which they don't find in Bitoasis.