Top Takeaways for 2023:
Here are our top findings on eToro:
eToro was founded in 2007 and is regulated by top-tier financial bodies, making it a safe broker (low-risk) for trading.
eToro is the best brokers for beginners.
eToro is best for social trading and copying other people trades.
Trading offers zero fees for buying stocks and ETFs, and has low fees for CFD trading
✅ Special Offer Currently Provided by This Broker:
Trade Commission Free Stocks and ETFs on a regulated Platform.
Disclaimer: eToro Service ARSN 637 489 466 promoted by eToro AUS Capital Limited ACN 612 791 803 AFSL 491139. Capital at risk. See PDS and TMD. Zero commission does not apply to short or leveraged positions. Zero commission means that no broker fee has been charged when opening or closing the position. Limited stock exchanges only.
Description:
eToro is an online financial trading platform founded in the year 2007. Etoro was initially named Retail FX but later renamed to what it is now. 
The firm is a reputable online broker and famous for its intuitive platform and regulated by CySec. The platform allows for fat account opening, commission-free stock trading, and advanced social trading. 
Are you a beginner trader looking to invest in Stocks, CFD, or crypto assets? eToro is the perfect platform for you. 
Is eToro Safe?:
EToro is a well know social trading broker founded in 2007 with over 13 million users worldwide.
eToro is considered low-risk and safe broker. It's not publicly traded, hence it doesn't publish its financials to the public, and does not operate a bank.
eToro is regulated by many well-known financial bodies. Here are the broker regulation details:
Regulations & Licenses
EToro UK Ltd is regulated by the Financial Conduct Authority (FCA) under firm reference number 583263
EToro AUS capital Pty Ltd (EToro Australia) is the holder of an Australian Financial Services Licence (AFSL) 491139 issued by the Australian Securities and Investments Commission (ASIC), and regulated under the Corporations Act (Commonwealth)
eToro (Europe) Ltd is regulated by the Cyprus Securities & Exchange Commission (CySEC) under license number 109/10
Opening an account with eToro:
Opening an account is free, and you do it online. With a device and access to the internet, you can open an account in minutes. 
The requirements and the procedure of opening a trading account with a broker is more or less the same as opening an ordinary bank account. For some, it's as quick as opening an email account, but for others, it could take days, depending on their specific KYC process. 
Unlike in CFDs, you will hold your financial assets like forex positions or shares on your account. 
Requirements of opening an eToro account
To open an account with the broker, you've to provide proof of identity and residency. It's a digital process, though. 
Proof of identity: Personal ID/ Passport

Proof of residency: Utility bill
To open the account, you can also go through the identification process on the company's web platform. Once you're done with the account opening process, you can transfer some minimum amount from your bank account to the eToro trading account. The minimum deposit here is $50 (previously was $200).
eToro Fees in Detail:
Inactivity Fees
As mentioned earlier, eToro does charge a fee for any inactive account. The fee is charged only to the registered brokerage client. 
The inactivity fee is $10 every month if you don't login for one year.
Every broker has specific trading activity requirements that clients must fulfill. If your account does not buy or sell over a given period, the account is inactive, and an inactivity fee may be due. 
Therefore, it's advisable that if you're not using your trading account, close it with the broker and confirm that any trading fees are not due.  
Deposit Fees
eToro doesn't charge any money on deposits to the platform. Conversion fees applies*
eToro Commission Fees
The commission fees differ depending on the trading type, the asset, and the level of trading account you have. However, eToro offers zero fees for buying stocks & ETFs, and has generally low CFD trading fees compared to other brokers. 
eToro Withdrawal Fee
eToro charges $5 fee on each fund withdrawal transaction.
What Can you Trade with eToro:
Different entities under this trading platform offer different trading instruments due to regulatory restrictions. You can trade with over 2000 instruments on this platform, that includes:
Stocks (You own the underlying asset)

ETFs

(You own the underlying asset)

Commodities trading

Forex trading

CFDs trading

Indices trading

Cryptocurrency trading 

Index-based funds trading
Does eToro Offer Islamic Accounts?:
The answer is Yes- eToro offers Islamic accounts, and this is in accordance with Sharia law. The account is offered to Muslim faith traders, and it includes a swap-free account. The trading environment for Muslims is ideal for traders who are strict adherents of Sharia law. The fee is fixed and no interest and the charge will depend on the direction of the order. 
Benefits of Islamic Accounts
Islamic accounts don't attract any interest on settlement for over 24 hours.
No additional charges for roll-over for more than 24hrs.
No commission and fees on account maintenance with revenues earned only through spreads.
If this account interests you, the procedure is; Register for a real account and invest anything above $1000.
Provide identification documents to verify your transaction and residential address as part of the KYC (Know Your Customer) process. 
Upon submission of the documents, they will be reviewed, and you get a response on the outcome. 
Suppose you're a Muslim trader in the UAE, and you want your live trading account to be converted to an Islamic account. In that case, you've to fund the account with a minimum deposit of $1,000( for other accounts, it's $200 or its equivalent in Dirham) before the processing of the request. 
Buy stocks on eToro:
When investing in stocks on eToro, you don't pay any commission. That means you can buy and sell stocks on their web platform or mobile app without any extra fees. Other brokers charge a transaction charge, and that's a huge benefit for those who buy shares with eToro. However, other fees apply. 
On the eToro platform also, there's no limit to the volume of shares you can buy with zero commission.
It's important to note that the zero commission charge only applies when trading non-leveraged stocks and therefore not available for stock CFD trades.
Since the size of their customer base is huge, eToro can make competitive offers like zero commissions. 
They've over 20 million users worldwide, and the volumes they process help them pass savings on to their users and remain competitive.
Owning the Underlying Stocks on eToro:
With this platform, you can trade stocks and own the underlying asset. 
This is important, especially when dealing with brokers who only offer CFD trading on shares and stocks. Once you buy a non-leveraged stock on eToro, it's logged on the platform.
You don't get a stock issue certificate, and you've no voting rights, but if dividends are issued on the stock, and you've fulfilled all that is required, you are updated on balance. 
Now that you're entitled to owning the underlying assets on a stock trade, and you meet the criteria for the particular financial asset, you're entitled to share dividend payment. 
eToro CopyTrading:
What is CopyTrading?
It's a feature which allows traders to check other investor's portfolio performance and copy them.
You can view the performance and risk score of other traders and choose who to copy.
When you decide on a person to copy, you set the amount you are willing to copy that person for.
While copying, you have the option to copy the already opened positions or not, so only the new trades will be automatically copied to your portfolio.
Copying people means that every time these people do a trade, you will automatically mirror the same with the amount you chose to copy with.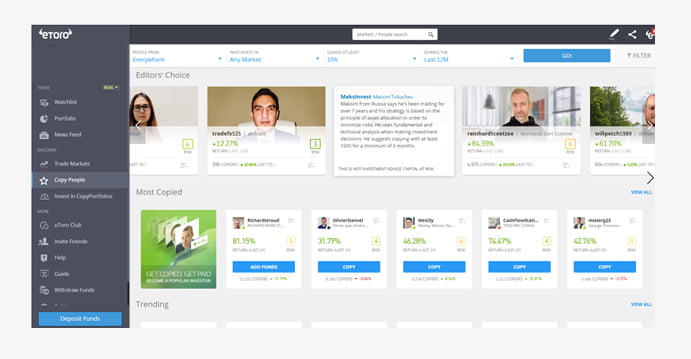 Past performance is not an indication of future results.
Find out more about Copy Trading
eToro AUS Capital Limited ACN 612 791 803 AFSL 491139. Social trading. eToro does not approve or endorse any of the trading accounts customers may choose to copy or follow. Assets held in your name. Capital at risk. See PDS and TMD
eToro Trader Risk Score:
Every trader on eToro has a risk score which is an average calculated using the platform's bespoke score algorithm that uses data from a client over seven days. Then you can see how your trading score has changed over the months or years. 
You've an average percentage of your max drawdown over the last day, week, or even a year. You can track the performance and then strategize for the future. The risk score is usually from 1 to 10. A 1 is a low-risk eToro trader, while a 10 is a high-risk trader. 
The statistics on the detail page will also show other eToro traders that are copying you.
eToro Cryptocurrency Trading:
There's a complete set of crypto services offered by eToro. These services support and enable traders to trade in the major currencies including Ethereum, Bitcoin Cash, Dash, Litecoin, among many others. If you want to try the crypto market, or maybe you're an experienced crypto trader, eToro has crypto services that can be of great help to you.
However, on the downside, you can't transfer your crypto from eToro to an external wallet.
eToro Crypto Wallet App:
You can access eToro's crypto assets through the crypto app. It's a secure digital wallet that has military-level encryption. It supports the buying, selling, and storing of over 120 cryptocurrencies. 
The popularity of traders who want to transfer currencies in Crypto Asset form is remarkable. They continue to update their crypto offerings to keep up with the needs of over 20 million customers, and you can imagine the kind of transformation the platform has undergone. 
Minimum Deposit:
Minimum deposit is $50 which is considered low. The company only allows deposits in USD.
Customer Service:
Their customer service is quite good but the response is slow. Customer support is available 24/5. No live chat for Dubai users till the moment of writing this review, yet you can login to your account and raise a ticket and they'll most probably get back to you shortly.
Deposits & Withdrawals:
eToro accepts the following payment methods:
Debit / Credit cards
Paypal
Neteller
Skrill
Bank Transfer
Education:
eToro has a good education center that offers the following:
News, analysis and Daily market view:
It's a daily blogs where they write about the market news
Podcast:
You can listen to a different topics related to trading
Guide to Fintech:
It's a learning center where traders can learn about investing basics. It is mainly useful for the beginner investors
Video tutorials:
Traders can find detailed video tutorials to help them becoming familiar with the platform.
eToro trading school:
eToro has partnered with e-Careers and created a trading course and mentoring program.
Disclaimers:
eToro AUS Capital Limited ACN 612 791 803 AFSL 491139. OTC Derivatives are leveraged financial products and considered speculative. OTC Derivatives may not be suitable for all investors. You don't own the underlying assets. You risk losing all of your investment. This information is general only and has been prepared without taking your objectives, financial situation or needs into account. Consider our Product Disclosure Statement (PDS and TMD). See full disclaimer
eToro AUS Capital Limited ACN 612 791 803 AFSL 491139. Social trading. eToro does not approve or endorse any of the trading accounts customers may choose to copy or follow. Assets held in your name. Capital at risk. See PDS and TMD
Crypto: assets are unregulated & highly speculative. No consumer protection. Capital at risk.