The Forex market has evolved into the largest financial market globally, with a daily turnover of $4 trillion. Yet, there are no central exchange Forex traders can complete transactions on despite its size. Instead, they are completed through intermediaries – a Forex Broker like XTB.
But XTB isn't alone in this space. It competes against thousands of Forex brokers. So as a newbie looking to have a slice of the cake, it's essential to choose the best Forex broker for your needs.
This XTB guide sheds light on what XTB offers and what you can expect.
Let's dive into it.
XTB UAE Review – Overview:
XTB's started in 2002 as X-Trade. In 2004, it merged into XTB group. Currently, X-Trade brokersDM SA in Poland, is one of the biggest Forex and CFD brokers listed on the Warsaw stock exchange. They have offices in 13+ countries, including Poland, the UK, France, Spain and Germany.
Though XTB's market doesn't match those of bigger platforms, it outdoes them in crypto trading. Moreover, they run proprietary trading technology that provides traders with quick and reliable trading speeds, full transparency on trades, and no requites.
To affirm their position, they received the 'Best Trading Platform' award in 2016 and was voted the top-rated Forex and CFD Broker in 2018 in the Wealth and Finance International Awards.

Regulation:
As a global Forex and CFD company, XTB is licensed by the:
Financial Conduct Authority in the UK (FCA)
International Financial Services Commission of Belize (IFSC)
Autorite de Controle Pridentiel et de Resolution in France (ACPR)
Bundesanstait fur Finanzdienstleistungsaufsicht in Germany (BaFin)
Komisja Nadzoru Finasowego in Poland (KNF)
Comision Nacional del Mercado de Valores in Spain (CNMV)
Having a license from the FCA means that your funds will be held in a segregate account separate from the XTB funds. This assures you that your funds are protected as the FSCS offers cover for upto £50,000 if you are up for insolvency.
Moreover, XTB accounts have negative balance protection, which means account losses are contained within the account funds.
Note: XTB opened a new subsidiary in Dubai (XTB MENA Limited) to grow its brokerage business in Asia. However, they are currently awaiting regulation from the Dubai Financial Services Authority.

Account Types:
During sign up, traders have to choose between three account types, including Standard, Islamic and Pro. The account type available to you depends on the subsidiary you register with. For example, those working with XTB International and are located outside the European Union can create any of the three accounts. However, those with XTB UK can only open a Pro or Standard account.
Standard Account: The XTB Standard account is ideal for beginner traders since it doesn't bombard you with complicated commission fee calculations and has a wider spread.
Pro Account: pro account has tighter spreads but includes commissions. As such, the Pro Account is ideal for day traders, scalpers and those who use automated trading strategies.
Islamic Account: Islamic account is designed for traders who adhere to Islamic Finance principles that prohibit paying interest. Besides being Sharia Law compliant, it's important to point out that holders of this account don't have access to crypto trading yet. They are also restricted from trading USD/CLP, USD/BRL, EUR/TRY, USD/MXN, USD/ZAR, EUR/TRY.
The Islamic account is only available to users in specific countries, including the UAE, Saudi Arabia, Qatar, Jordan, Oman, Kuwait, Malaysia, Egypt, Lebanon and Bahrain.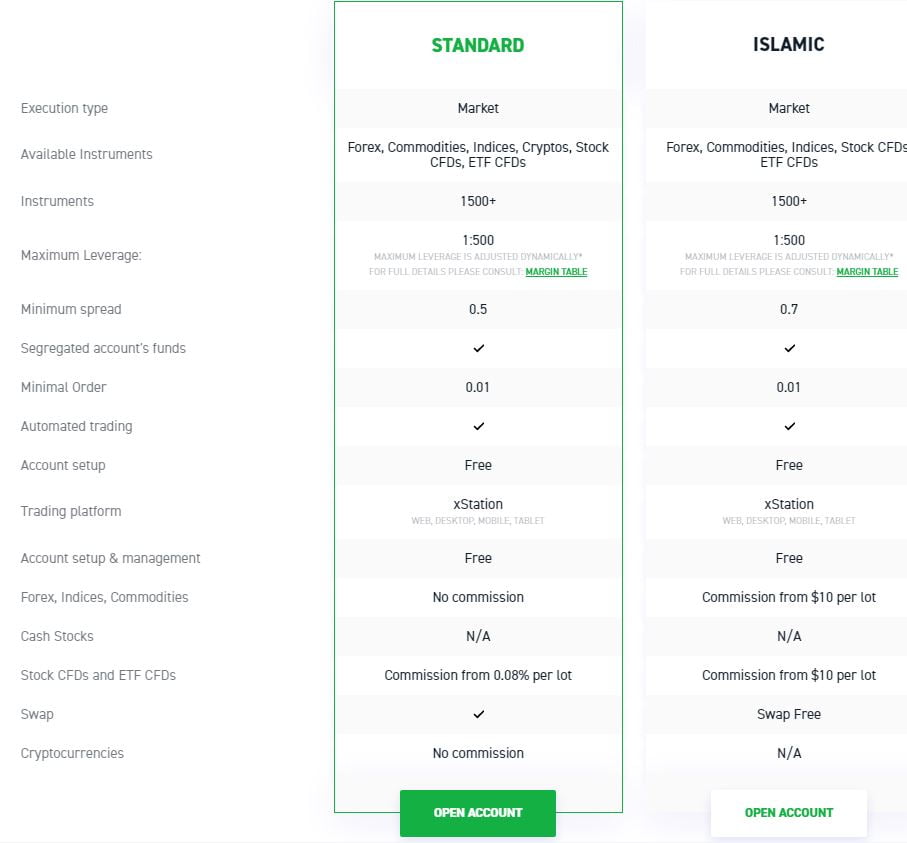 Minimum Deposit:
There is no minimum deposit threshold for individual accounts. However, corporate accounts have a £15,000 minimum deposit.

Fees (Important):
XTB fee levels can be high, average or low depending on the broker you compare it to. Therefore, we split fee consideration into two:
Non-trading fees, including inactivity fees and withdrawal fees
Trading fees, including spreads, conversion fees and spreads
These depend on the account type:
Standard account – 0.5 minimum spread
Pro account – 0.1 minimum spread
Islamic account – 0.7 minimum spread
However, for pro accounts, there is a $3.50 commission per lot added for the trades. And since a standard lot translates into 100,000 units of the base currency, this translates to a 0.45 minimum spread.
XTB also charges a $10 inactivity fee. This is charged when there's no opening or closing of trade position in your accounts for the last 365 days and no cash deposit within the past 90 days. Moreover, there are fees for withdrawals that are less than the specified amount for your account.
XTB also charges a percentage for withdrawal to credit cards, a percentage for using e-wallets like SafetyPay, Neteller, Skrill and PayPal. However, XTB doesn't charge for wire transfers or closing your account.
As for deposits, there is a minimum requirement for live accounts. Logically, this amount is subject to margin requirements of the smallest trade size you wish to place.

Trading Platforms:
XTB operates with two platforms: xStation 5 and MetaTrader 4 (MT$). While the two are designed to provide an exemplary trading experience, there are some differences between them regarding risk management, trading tools features and product range.
The MT4 is ideal for experienced traders or individuals looking to develop sophisticated trading strategies through expert advisors.  On the other hand, the xStation 5 (XTB's proprietary platform) offers full market access to numerous financial instruments with lots of useful tools to make trading easier for beginners.
MetaTrader 4
Through this platform, you can enjoy features including:
Technical analysis tools including 24 objects, nine timeframes, and 30 pre-installed indicators that allow you to analyze financial markets and establish trading opportunities.
Automated trading by using Expert Advisors and Trading Signals available through social-copy trading
Write and also develop algorithm trading strategies through Expert Advisors and the MQLA4 programming language.
Pattern recognition pattern algorithm that helps in automating the financial market analysis.
A huge forex trading community as well as an online marketplace where you can buy and download the Expert Advisors and the technical indicators
Tools that manage high risk in trading with the different order types available.
Unfortunately, the MT4 has one disadvantage; you cannot trade with all XTB's products. This is because it was primarily made for forex trading.
xStation 5
The main benefit of trading through the xStation 5 is that you gain more market access. Unfortunately, those on the MT4 are locked away from cryptocurrencies, shares and ETFs. But on the xStation 5, all these are available.
The xStation 5 is designed to provide an easy to operate design that also provides some unique tools for technical analysis. Some of these tools include:
Risk management tools – multiple pending orders, price alerts
A range of analysis and charting tools with multiple technical indicators
A built-in calculator for forecast profits and costs that help manage high-risk trading
Ability to close multiple open positions with a single click
Basic analysis tools including economic calendar and market commentary from top in-house analysts
Stock Screeners – this allows you to search numerous market shares to get CFDs with important financial instruments.
Market Sentiment displays the percentage of traders on the platform buying and selling different financial instruments.
Heat maps – a visual representation that shows which market is falling and rising. It also has the option to file equities, time periods and equities.
Both XTB trading platforms come with a mobile version that contains user-friendly features similar to what their desktop versions offer.

Customer Support:
XTB has a multilingual customer support team. In the UAE, the support is in English and Arabic. Unlike in the EU, a trader in the UAE has access to customer support 24/7 through email, phone and live chat.
If you choose to use XTB UK, customer support will be available 24 hours a day, five days a week.

Education and Market Analysis:
XTB provides users with a range of educational resources that cover both beginner and advanced trading topics. These resources are accessible to traders of any account type, including Islamic.
The training academy has tutorials for MetaTrader d and xStation 5. It also has lessons explaining Forex, CFDs and fundamental analysis. However, the educational database is lacking in advanced tutorials. XTB says these should be expected soon on their website.
Newbies can benefit from free demo accounts for both xStation 5 and MT4 trading platforms. A demo account helps you build trading confidence as well as learn what the trading platform has to offer before you proceed to trade with real money.

Bottom Line:
XTB has been operating internationally for about two decades. However, it recently created a subsidiary in Dubai as part of its expansion mission.
With that said, if you are in the UAE, you can access all of the broker's platform features and benefits, like setting up an Islamic account. Their platform is also available in Arabic to make it easier to use. Lastly, it's secure and has a lot to offer beginners and experts alike, especially on trading features and educational material.

Risk Warning: Trading CFDs on leveraged basis involves a significant amount of risk