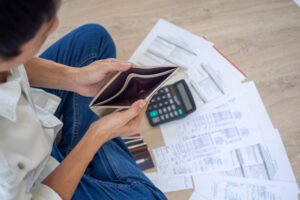 Everyone knows that debt is a huge problem. It robs you of your money now and in the future. It seems like you're stuck paying for the things from the past, like student loans and car loans. Debts can be frustrating, especially when you've debt on multiple credit cards.
Even though debts can't be underestimated but still many people think it's a normal part of life. Millions of consumers struggle to pay off their debts. Your debt might be the result of accidental spending or an unexpected event. You don't have to feel ashamed of what you owe.
However, to avoid higher interest rates, falling behind on payments, and late fees, some ideas might help you pay off your debt and develop an actionable plan to meet your financial goals.
In this article, we'll go over a few suggestions to help you jump-start your debt repayment journey.
1. Consider Debt Consolidation
2. Adjust Your Spending Habits
3. Start With Your Most Expensive Debt First
4. Save on Grocery to Pay-off Your Debt Faster
5. Buy Used Car Instead of New One
1. Consider Debt Consolidation:
If you have more than a one credit card, or more than one loan, then consider consolidating all your debts into one single loan. In this way, you can combine several loans or credit cards into one by getting a new loan to pay off all other outstanding amounts.
By transferring all your debts to one bank, you can start making only one monthly payment instead of several payment to different creditors. Also, make sure that this consolidated loan have a lower interest rate, which could lower your debt burden significantly.
Debt consolidation also helps you to reduce your APR (Annual Percentage Rate).
How to Consolidate My Debts?
You have two options:
1. Call the bank with which you have a good record – ideally your salary transfer account, and ask for the best loan you can get.
2. Request a debt consolidation from the bank that you have the largest outstanding.
Note that under UAE Central Bank rules, you may not be able to consolidate all your debt if your monthly repayments surpass the Debt Burden Ratio (DBR) guideline of 50 per cent of your income.
* If you don't know what DBR is, please leave a question in the comments section below!
Read More: How to Invest AED 1,000 in UAE
2. Adjust Your Spending Habits:
People have wishes and wants that are much bigger than their paychecks. Most of us get into debt and stay in it because we buy things we want and that's what forces us towards getting into debt because even millionaires can't afford to buy anything they want. 
Make sure you don't make an impulse purchase if you want something unless you think you can afford it. Another good way to spend less money is by using cash instead of credit. Studies found that people using credit cards spend 15% more on the things they purchase. 
Read More: Best Trading Platforms and Apps in UAE
3. Start With Your Most Expensive Debt First:
Select your most expensive debt that is charging the most interest fee and let your all extra payments go towards that one first.  Once, your most expensive debt has been paid, just don't stop there, and put all those payments into your second most expensive debt. 
Continue this process until you pay off all your debt. This strategy is known as the debt snowball method by Dave Ramsey, one of the most famous personal finance Gurus, and it'll help to pay off your debts very quickly. 
Read More: 5 ETF Portfolio Ideas
4. Save on Grocery to Pay-off Your Debt Faster:
To save some money on groceries, make sure to have a list of items you're going to buy and look for the items you can cut back to save some dollars. This trick will also help you determine your monthly or weekly expenses making it easier for you to avoid unnecessary expenses.
Another way is to fill up your cupboards when groceries are on sale. You can save up to 25% on your grocery bill yearly. Applying such strategies can save money to pay off your debts and ease the burden.
Also, for your grocery, search for websites and mobile apps that compare prices between multiple shops and supermarkets to provide you with the place that sells at the lowest price. Example https://ae.pricena.com/en/
Read more: 9 Effective Ways to Save Money in Dubai
5. Buy Used Car Instead of a New One:
A new car that cost you AED 120,000 will eventually lose about AED 80,000 within the first four years you bought it to get the same results, it means you're tossing out around AED 400 bill out of your car window once a week. How scary is that?
So by purchasing a used car rather than going for a new one can save you a huge amount of money. The amount you saved can be used to pay off your debts more quickly.
Read More: 4 Ways to Make a Monthly Income From UAE
Leave a Reply