The United Arab Emirates continues to be a favorable environment for investors thanks to the excellent infrastructure, many attractions, and the region's first-class hospitality. As a result, local companies are thriving also, leading to the year-on-year rise of the UAE stock market total index.
As an investor who has done his/her research very well and learned basic investing strategies, the UAE stock market could be a great place for you to start investing. If you are hearing the term "stock" here for the first time. Worry no more. 
In this comprehensive guide, we will take you through all the crucial steps you'll need to take to buy your first share that's listed on the UAE stock market. Read on.
Stock Exchanges in the UAE :
Before we proceed, we'll need to lay down some foundations. You'll often come across some of these terms in your investment journey as you navigate through the UAE stock market. At present, there are three stock exchanges in the United Arab Emirates, which are:
1. Dubai financial market (DFM)
2. Abu Dhabi securities exchange (ADX)
3. NASDAQ Dubai
The Securities and Commodities Authority (SCA) regulates and monitors these three stock exchanges. The SCA also offers investors information and resources necessary to make sound investment decisions, so they might warrant a quick peek once in a while.
Let's have some insight into what the different exchanges bring to the table.
1. Dubai Financial Market (DFM):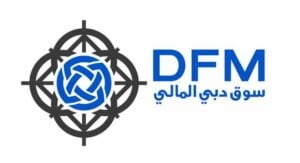 This institution is the first exchange in the UAE, established in the year  2000. It functions on Islamic principles, meaning companies listed on this exchange must operate within sharia laws and principles. DFM works with five core values of innovation, integrity, efficiency, confidentiality, and transparency.
Most Popular Stocks Listed on Dubai Financial Market DFM
Amlak Finance P.J.S.C
Damac Porperties
Dubai Islamic Bank DIB
Emirates Investment Bank
Emaar Properties
Emirates NBD
Oman Insirance Copmany
Du
Tabreed
See full list here>>
2. Abu Dhabi Securities Exchange (ADX):

Likewise, established in late 2000, ADX trades in companies based in the UAE. It has branches in Sharjah, Fujairah, Al Ain and Ras Al Khaimah. On this exchange, you can find companies in various sectors such as hotels, insurance, banking. This variety is great if you want to diversify your investment portfolio for local companies.
Most Popular Stocks Listed on AD Securities Exchange ADX
Abu Dhabi Commercial Bank ADCB
Al Dar Properties
Bank of Sharjah
Emirate of Abu Dhabi
Etisalat
National Bank of Abu Dhabi
United Insurance Co.
See full list here>>
3. NASDAQ Dubai:

This exchange allows you to trade shares of Emirati companies and international companies. In addition, you can trade stocks, derivatives, Sukuk (Islamic bonds), conventional bonds, real estate investment funds (REITs), and tradable commodities. NASDAQ Dubai is subject to the Dubai Financial Services Authority (DFSA), and The Dubai Financial Market (DFM) owns two-thirds of its shares.
Stocks Listed on Nasdaq Dubai Exchange
Al Baraka Banking Group
Depa Limited
Emirates REITs
ENBD REIT
Hikma Pharmaceuticals GDR
Nasdaq, Inc
Orascom Construction
See full list here>>
How to Invest in UAE Stock Market:
To invest in the UAE stock market, you need to do the following steps:
1. Apply for Investor Account NIN
2. Assign a Broker
3. Start Trading
4. Track your investments and dividends
Step 1: Apply for Investor Account (NIN)
The first thing you need to do to be able to start investing in UAE stock market, is to get an investor number (NIN).
To get your Investor number visit any of the three exchanges (the Dubai Financial Market, Abu Dhabi security exchange, or NASDAQ Dubai) websites and download a form to apply for your investor number (NIN). You can also get this application form on either of the three exchanges trading floors.
The required documents for obtaining an investor number (NIN) are the following:
Valid passport

Family book (UAE Nationals)

Residential Visa (UAE Residents)

UAE National ID (UAE residents)

To be over 21 years old or have guardians' signature on the application if under
With all the necessary documentation ready and the application filed, you'll need to submit the documents at http://www.dfm.ae/ if applying online. If on the trading floor in the Trade Center, submit the required documents to the trading booths or Client Services Providers (CSD) if submitting your application in a foreign country manually.
Filling out the form online is very convenient, but it can take a day or two for your application to be processed and approved. However, if you visit the Client Services Affairs desk at the DFM trading floor, you'll likely get your investor number on the same day you apply for it. DFM offices are open from 8 am to 2 pm, Sunday to Thursday. You'll receive your NIN without charge and get it on the spot after your application is approved.
Step 2: Assign a Broker
After acquiring the NIN number, you can then register for various brokers available in the UAE. You can find a long list of verified brokers at the DFM or NASDAQ Dubai website. The brokers will ask you for your NIN to create your trading account, and you can start trading stocks on their board. Most brokerage firms can also help you with the NIN application process – at a fee or a catch if you haven't done so already.
The brokerage company acts as a mediator between you and the stock exchange. They will buy and sell shares on your behalf based on the level of service required, which determines the type of brokerage company you prefer. There are three levels of service:
Full service:

Through this type of brokerage company, they'll develop a complete plan to help you achieve your goals. However, their commission rate is high. But – in return – the brokerage firm puts you in a good position since you are provided with meaningful advice for your investment portfolio. In other words, a full-service broker makes appropriate decisions on your behalf.

Brokers for consultants:

This type of broker provides advice with every trading process, but the decision to buy or sell is up to you, the investor. Their commission rate is medium.

Execution broker:

This type of broker only takes investors' orders and executes them. The commission rate is low, and responsibility lies solely on you. This option is ideal if you know the ins and outs of the UAE local stock market.
Of course, you should choose your broker wisely because each has a different pricing system. Understand the type of investment you're likely going to engage in and figure out if the broker is right for you. For example, if you want to invest for the long term in stock, such as ten years, transaction fees might not mean much to you. On the other hand, if you want to invest in the market quickly, such as day trading, transaction fees will matter a lot because charges can take from your portfolio significantly as you buy and sell frequently.
If you would like an advisor to help you to create a stock portfolio in UAE stock market, and manage it for you, drop us an email on

info@thefinancedean.com
Step 3: Start Trading
After obtaining the NIN and appointing a broker, you can monitor the market either through the trading app your broker provides, or through DFM market watch.
The DFM market watch is the list provided by the Dubai Financial Market where investors can see all details related to stocks listed in the UAE stock market in terms of prices, volume, number of trades, etc.
After deciding on the stock you are willing to buy, simply place the order through your broker's app.
Step 4: Track Your Investments and Dividends
Through the trading platform provided by your broker, you can track your positions, check your profit/losses, and collect dividends paid to you by the companies.  (Check out how you can withdraw the dividends in the FAQ section at the end)
Dubai Financial Stock Market Trading Hours:
You can conduct trading transactions during three periods categorised as:
Pre-opening session (09:30 am – 10:00 am) in UAE Timing

Continuous trading session (10:00 am – 01:50 pm) in UAE Timing

Pre-closing session (01:50 pm – 02:00 pm) in UAE Timing
On the trading floor, you'll simply ask to buy or sell a particular share you own at the counters. However, on online trading platforms provided to you by a broker, they'll act as proxies making the trade for you. Due to fast internet and fast-acting online trading applications, there isn't a noteworthy time lag on the trade as it feels almost instantaneous. 
As always, look at the real-time data and other valuable information you get, to gauge which price fluctuations you believe will happen. Also, monitor and track your trading performance to see whether you're making the right decisions in the long term.
Which are the best UAE stocks for investments and trading in 2021?:
Indicators show that many UAE companies' shares are considered the best for investment. 
You can now get some shares listed below from the market. But, as earlier alluded to, you need to be familiar with the causes of stock price volatility and investment methods before investing. That said, here's a list of companies that you could consider. Then, we explain why we picked them, so you can know what to look out for.
The Emirates bank is the oldest and the largest in the United Arab Emirates in terms of assets. It's considered one of the largest financial institutions in the Middle East.  The state established this bank in 1969 in the Emirate of Dubai to provide all financial and insurance services Back then, the UAE state-owned all its shares.
The enormity of Emirates NBD Bank is also evident as it employs more than 14 thousand employees of different nationalities. It also has many branches in many other countries. In 2007, the UAE government launched the Emirates NBD Bank's shares on the Dubai Stock Exchange, with the symbol – Emirates NBD (ENBD).
The stock price of Emirates NBD has almost doubled through the past 5 years, from around AED 9 all the way to AED 17 at the time of updating this article in August 2023.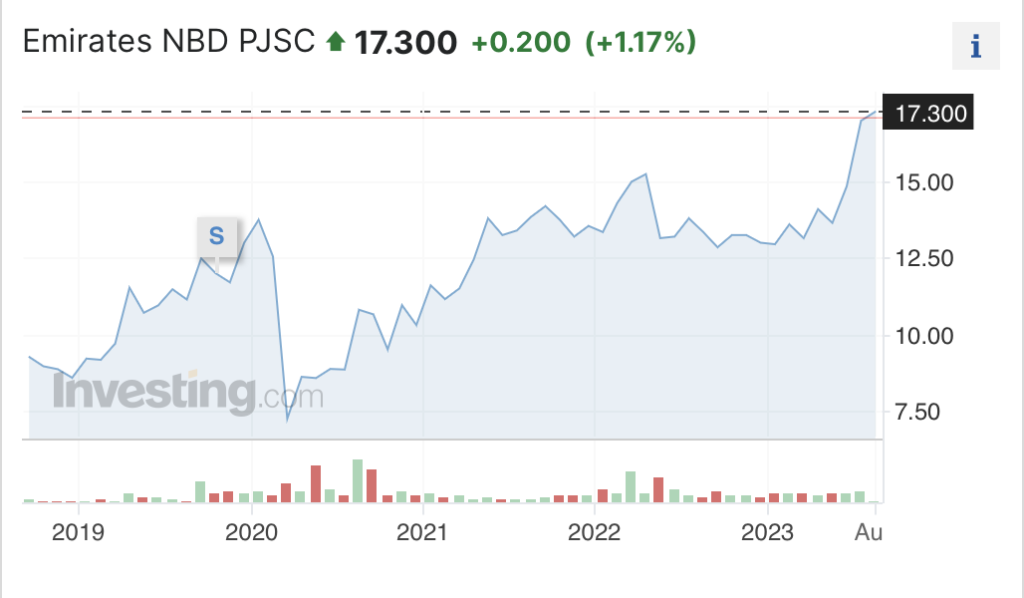 *www.investing.com
ADNOC works in energy extraction, logistical operations, shipping, and navigation. This state-owned oil company of the UAE shares was launched in 2017 on the Abu Dhabi Stock Exchange with the code (ADNOCDIST).
ADNOCs' share value astoundingly continued to rise in 2020 despite the Covid-19 pandemic. And, when considering that the price of oil tanked due to travel restrictions, many believe this company's valuation is set to increase.
The stock price of ADNOC has almost doubled through the past 5 years, from around AED 2.4 all the way to AED 4 at the time of updating this article in August 2023.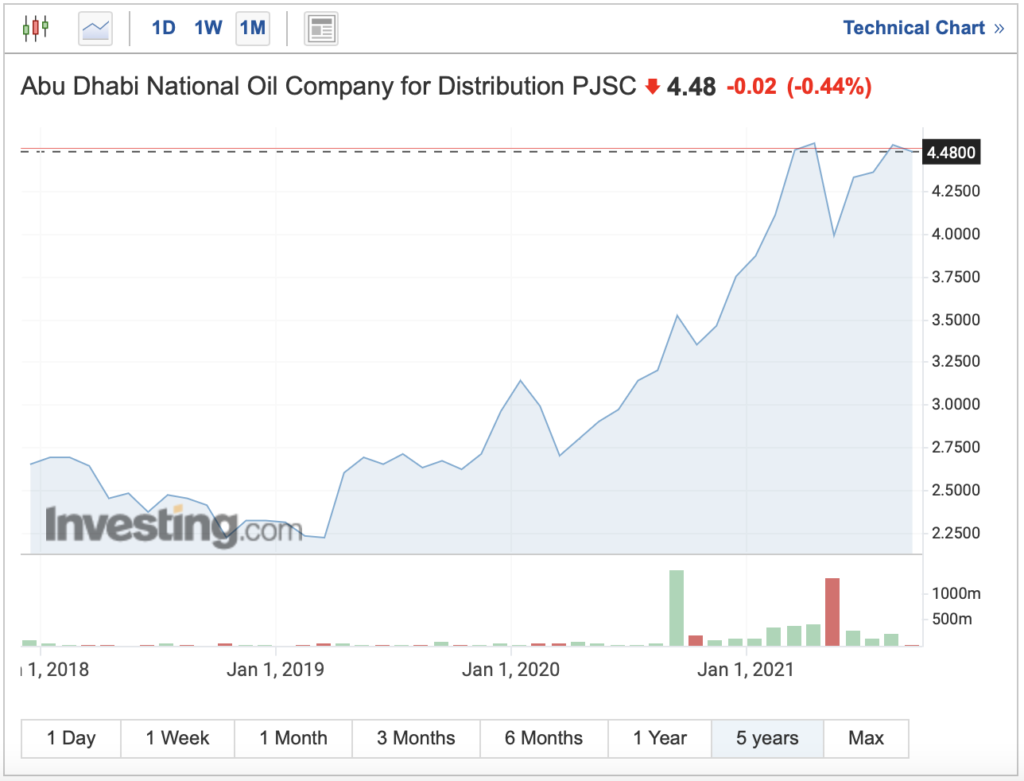 *www.investing.com
Tabreed is a leading international district cooling developer based in the UAE providing energy efficient, cost efficient and environment-friendly cooling solutions in the GCC region, India, and beyond.
Founded in 1998, and listed on the Dubai Financial Market (TABR), Tabreed's cooling infrastructure is an integral part of the region's growth. The company now delivers over 1.404 million refrigeration tons to major residential, commercial, government and private projects. Tabreed owns and operates 86 plants in its portfolio across the GCC, including 73 plants in the United Arab Emirates, three in the Kingdom of Saudi Arabia, and five in Oman, one in the Kingdom of Bahrain, and others in the region.
The stock price of TABREED has more than doubled in the past 5 years, from around AED 1.5 all the way to AED 3.8 at the time of updating this article in August 2023.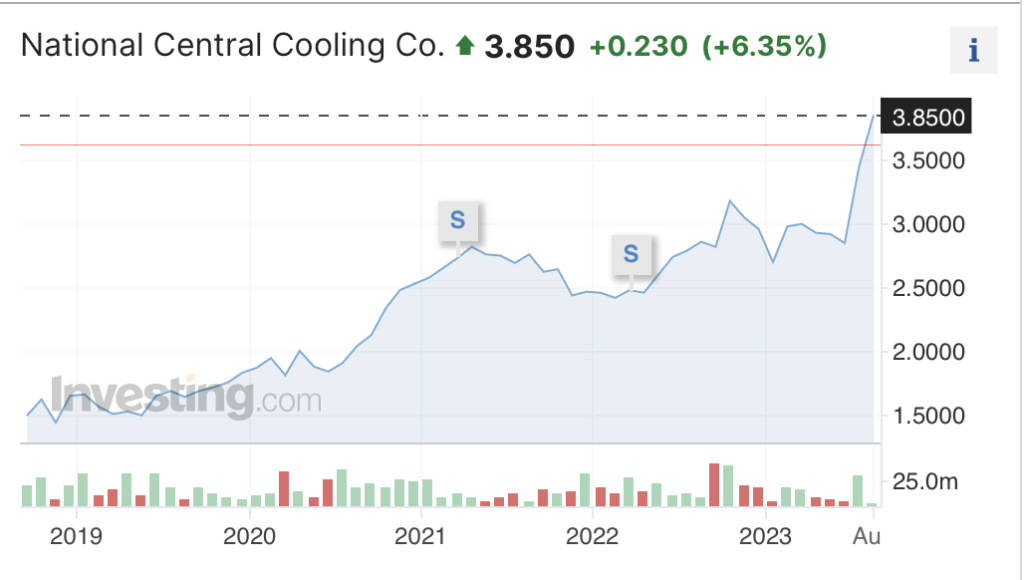 *www.investing.com
Frequently Asked Questions: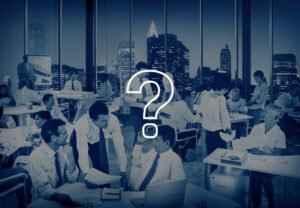 How to Collect Dividends Paid by Companies?

When listed companies pay dividends to the stock investors, dividends will be assigned to your account by your broker. However, you can choose to withdraw the dividends through the i-vestor card that DFM provides. It works such as a bank Debit card and you can withdraw your dividends from any ATM machine.
What is meant by stock?
A stock or share is a unit of many units owned by a company. Companies offer and sell these units (shares) to investors to benefit from them as their price hopefully increases in value with time.
The company also benefits from the shareholders' purchase of shares because they can allocate the funds into their projects. The company is divided into units of equal sizes, with each unit given the name share. For example, if a company is valued at 100 million Dirhams and offers all its shares to the market, it could split this value into smaller pieces. Therefore, say each share was 10 Dirhams, that would mean there are 10 million shares of that stock available.
What causes stock price fluctuations in the UAE Financial Market?
Stocks are considered unstable, and it's not possible to know when they will rise or fall. However, you can expect fluctuation due to several factors, of which the most important are
Supply and demand:

This is a constant push and pull of wants. The more the demand in stock, the more its prices increase. The more the supply, the lower the price.

Returns:

These are the companies' profits. The higher the profits, the higher the share price but, the more unsatisfactory the profits, the lower the share price.

Market psychology:

This is considered the main factor in share price fluctuations. It depends on several factors such as upcoming industrial legislation, public confidence in the companies' team, and the economy's general health.
Take these factors into consideration, and you'll be better in your decisions of buying or selling your stocks. 
Why to invest in the UAE stock market?
Many UAE stocks are on the up and are worth trying. Many have features not available to many other stocks, such as
Low prices of stocks, making it suitable even for a small trader

The rapid growth rate compared to other stock markets

Profits distributed on an ongoing basis by many profitable companies, with order enforced by the steadfast SCA.
Should I buy stocks of one company or several companies?
This depends on how much you want to invest. For example, if you are not devoting a great deal of money, it makes sense to have a few shares in one company. Otherwise, it would be better  to diversify your portfolio to reduce the risk of being stuck in a particular stock that may not do as well as others.
Can non-residents invest in the UAE stock market?
Yes, both residents and non-residents can trade on the UAE stock market with little documentation. 
Ask For Help:
As with investing in the international  stock market, always do your due diligence on the stock, sector, economic indicators, and market fundamentals.
Consider engaging a fund manager that can advise you on when to enter the stock market and what to invest in.
If you want to get connected with a UAE stock market fund manager, please send us an email on info@thefinancedean.com and we can connect you with the best fund managers in the market.
Also, if you would like to connect with a financial advisor in UAE to help you achieve your goals as an expat in the UAE, please also send us an email, or check out our page of

Recommended Financial Advisors in UAE

.
Bottom Line:
Investing in the  UAE stock market has never been easier than it is right now, thanks to the numerous brokerage accounts offering online stock trading. 
With a good plan, beginners in the UAE can start trading local shares and possibly grow their wealth. To be clear, the goal as an investor is to buy low and sell high. In some stocks, you can continue with your busy life as your money works for you, reaping the reward after some months or years.
Leave a Reply