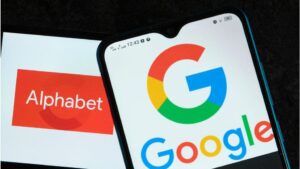 About half of the world's population of use Google as the primary search engine, or Google Maps for direction everyday.
Adding Google stock to your portfolio is an excellent way to gain exposure to technology, software and hardware markets with a single purchase.
If you're an active investor, it is likely that you've previously considered investing in Google. And if you're new to investing, you may wonder how to invest in Google from UAE.
Our guide will help you learn a little more about the history of Google and how you can add this legendary company to your investing portfolio.
In this article, you will have answers on the below questions, and some more:
How to buy Google stock from UAE?
How much would you have if you invested $1000 in Google 10 years ago?
What are some of the different ways to invest in Google from UAE?
Google is considered one of the world's largest tech companies, along with Apple, Amazon and Facebook.
Its products and services include a search engine, online advertising services, cloud computing, software applications and hardware products.
You can invest in Google stocks (GOOG or GOOGL) by buying its holding company shares, Alphabet Inc., created in 2015.
If you believe investing in GOOGL stock  is right for you, you don't need to have thousands of dollars to do it – you can start with only AED 200.
Google's Stock History:
Google's stock has growing in value consistently since its inception in August of 2004.
There have been 3 stock splits in Google history. The 1st stock split took place on March 27, 2014. The company's 2nd stock split took place on April 27, 2015. The 3rd split was on July 18th 2022.
A $1000 investment made 10 years ago, would be worth around $9,024.40, as of August 2021, or a gain of 802.44%, and this return excludes dividends.
Here is the historical chart of Google stock for the past 5 years, showing the historical price of $56, all the way up to $87 on January 2023.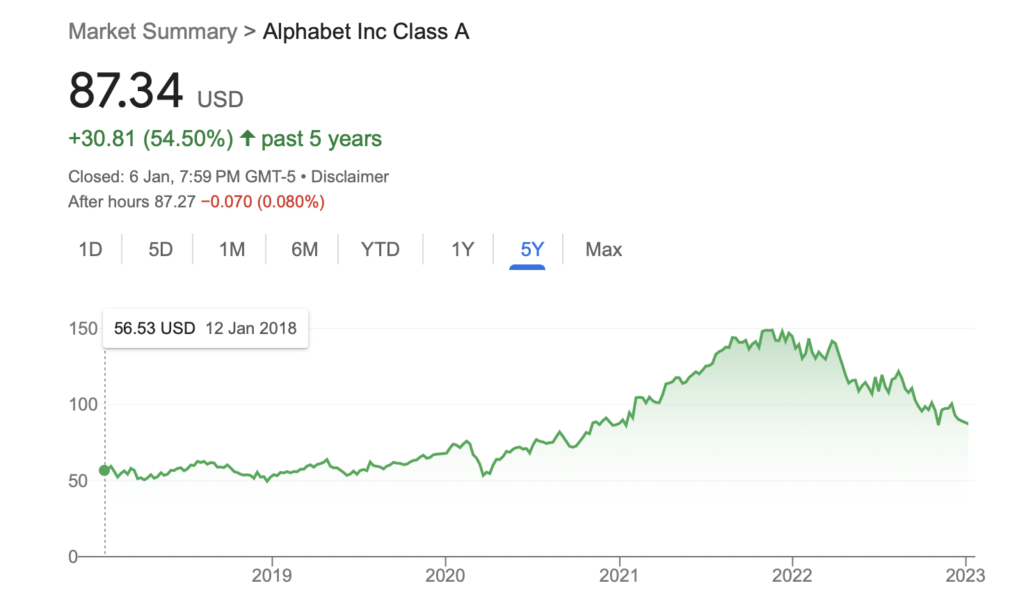 1. Buy Google Stock Through an Online Broker:
If you want to buy Google share and own the stock in UAE, you can open an account with an online broker. However, it's highly recommended that you look for trusted brokers that offer quality service with the lowest trading fees possible.
The best and most popular online broker to invest in Stocks and fractional stocks in UAE is eToro.
Here are the steps of buying Google stock through eToro:
Click here to visit eToro website, choose a username, email, password, read the terms & conditions, accept them if you wish and click Join now
eToro Service ARSN 637 489 466 Capital at risk. See PDS and TMD
Step 2: Verify Your Account
Follow the steps of verifying the account and provide the required information that includes your personal details and proof of your identity and residential address.
After finishing the verification process, it will take eToro a couple of days to check the information and get your account fully verified.
Step 3: Fund your account
eToro accepts different types of payment methods including PayPal, Skrill, Neteller, Visa, MasterCard, WebMoney and more.
You must know that the minimum deposit is $50 and platform won't allow you to deposit less.
Step 4: Buy Google 

Stock

!
Now you have your account verified and funded. It's time to buy your favorite stock.
You can find Google stock by writing "Alphabet" in the search box above

One you click on Alphabet stock, click "Trade", choose the amount you want to buy, and Google stock will be in your portfolio

For further details, check out our How to Buy US Stocks from UAE article.
2. Buy Google Stock CFD Through Trading Platform:
Another way of investing in Google from UAE is to buy the stock CFD.
When you buy the CFD, you don't actually own the stock, but rather you bet on the price movement. In other words, if you make a long "Buy" position, and the price goes up, you make money, and vise versa.
Now the question that will come to your mind, "Why do would I want to buy the stock CFD while I can own the stock itself?"
Actually, many investors and traders prefer CFDs trading to owning the stock because CFD brokers provide you with leverage. It means that if you invest $1,000, you can open large positions as if you are trading with $10,000 and $100,000, and make the same profits as you are trading with those big amounts, thanks to the leverage.
Our recommended CFD brokers in UAE is XTB.
XTB received the 'Best Trading Platform' award in 2016 and was voted the top-rated Forex and CFD Broker in 2018 in the Wealth and Finance International Awards.
They make trading simple, and their customer support helps you out with anything you want from opening your account until making your trades.
3. Buy an ETF That Holds Google Stock:
If you don't want to invest in one individual stock because you think it's risky to put your money in one asset, but still you want to get an exposure to Google, then you might want to consider investing in an ETF that holds Google along with other technology and next generation internet companies.
There are many great ETFs that give you an exposure to Google. Below you can find an example. One of the best ETFs for investing in Google and technology sector in general:
This ETF tracks a broad index of companies in the information technology sector which the company considers to be the following three areas; software, consulting, and hardware.
5 Years Performance: 277%
PopularHoldings: Apple, Microsoft, Google, Visa
ETF Symbol: VGT – 25%
How to Invest in ETFs in UAE?
To buy ETFs in UAE by yourself, you must have an account with a brokerage firm registered with the exchange where you want to trade ETFs.
We highly recommend eToro especially if you are not an expert. It has ZERO commission for trading stocks and ETFs. Also, you can benefit from the social trading and watch other people portfolios, and copy the trades of the most successful traders.
Check out our other article: 5 ETF Portfolio Ideas You Can Start from the UAE
4. Buy Google Stock Through a Financial Advisor in UAE:
If you don't know how to do it yourself, or you don't have the time to research and monitor the news and markets, you can use the help of a financial advisor. It's their job to be always updated with market trends and potential opportunities. You can tell them that you want to invest in Google (Alphabet), and they will help you setting your investing account, advise you with the best time to enter the market, and help you out building a stocks portfolio that will enable you to achieve your financial goals,
You can do your own research to find the best financial advisor in UAE. Also, you can check our recommended list. We chose this list carefully based on popularity, good reviews, the strength of the companies they work for, and the range of products and solutions they provide.
Bottom Line:
Google is the leader in the technology and search engines industry, and it's expected to remain leading the industry for many years. Therefore, if you missed the chance to invest in it in the past, it's never too late, but the most important thing to start now! Wish you all a successful and a safe trading!
Leave a Reply