"How to buy NFTs" is a question that many people are increasingly asking on the search engines as non-fungible tokens skyrocket in prices.
Your NFT could be fairly priced today, but over the next few years, its value might skyrocket. However, this exploding NFT market is relatively new, and we never know whether it will continue booming in the future, or NFT value will come to zero!
If you are ok with risky investment, or you simply want to purchase NFT because you believe that its value is going to grow over time, here's an easy, step-by-step guide on how to buy NFTs in UAE.
First, What Are NFTs:
A non-fungible token is a digital goods stored on the Ethereum network, that authenticates and certifies that a particular asset is genuine and unique.
To simply the concept, let's assume you received a pair of sneakers that were specifically tailored and made for you by Adidas.
You also own an official online certificate from Adidas clearly says that this sneakers in unique, there is only one of it.
In the same way, NFTs are uniquely created digital assets (e.g. animations, graphic designs, GIFs, audio files, memes and even tweets). Like your Adidas sneakers,
NFTs are appealing to collectors because they come with a digital certificate of authenticity.
How To Buy NFTs From UAE:
If you are looking to buy NFTs from the UAE, then you need to follow the below steps.
1. Open an Account with a Crypto Exchange
If you don't have an account with any crypto exchange yet, click here and sign up. If you don't know how to sign up, you can watch our video on our YouTube channel through this link.
2. Buy Ethereum 
Since most NFTs are Ethereum-based tokens, most marketplaces for these collectibles accept only ETH tokens as payment.
You can purchase Ethereum through your exchange. You don't have to buy a full Ethereum, you can buy fractions and parts.
3. Create a MetaMask Wallet 
If you are using your phone, you can download the Meta Mast wallet application and create a wallet.
Here is how to set up and install MetaMask on mobile devices:
1. Download the MetaMask app from Google Play or the App Store
2. Click on the "Get Started"
3. Select "Create a Wallet" and create a strong password
4. Write down your Secret Backup Phrase on an external paper so you can restore your wallet if it got removed.
5. Confirm your Secret Backup Phrase to ensure you have it correct
Here is how to set up and install MetaMask on a desktop browser:
1. Download and install the MetaMask extension for your browser
2. Click on "Get Started"
3. Select "Create a Wallet" and create a strong password
4. Write down your Secret Backup Phrase on an external paper so you can restore your wallet if it got removed.
5. Confirm your Secret Backup Phrase to ensure you have it correct
4. Transfer Your ETH to Your Metamask Wallet
Now you need to transfer the ETH you bought though the exchange to your Meta Mask wallet. Make sure the Ethereum you purchased covers the cost of the NFT you are want to buy.
5. Choose a Marketplace
you have to choose which NFT marketplace you'd like to purchase from. You can buy NFTs from several Marketplaces, but in this article, we will show you how to buy the NFT in UAE through OpenSea.
How to buy an NFT on OpenSea:
1. Go to OpenSea.io and connect your Meta Mask wallet by clicking on the wallet icon on the top right of the page

Choose Metamask, choose the Ethereum and click "connect".
After connecting your Metmask wallet, click on the Marketplace.
A marketplace is where you can find thousands of NFTs.  On the left panel, you can filter the NFTs by category (e.g. art, sport, trading cards, etc.).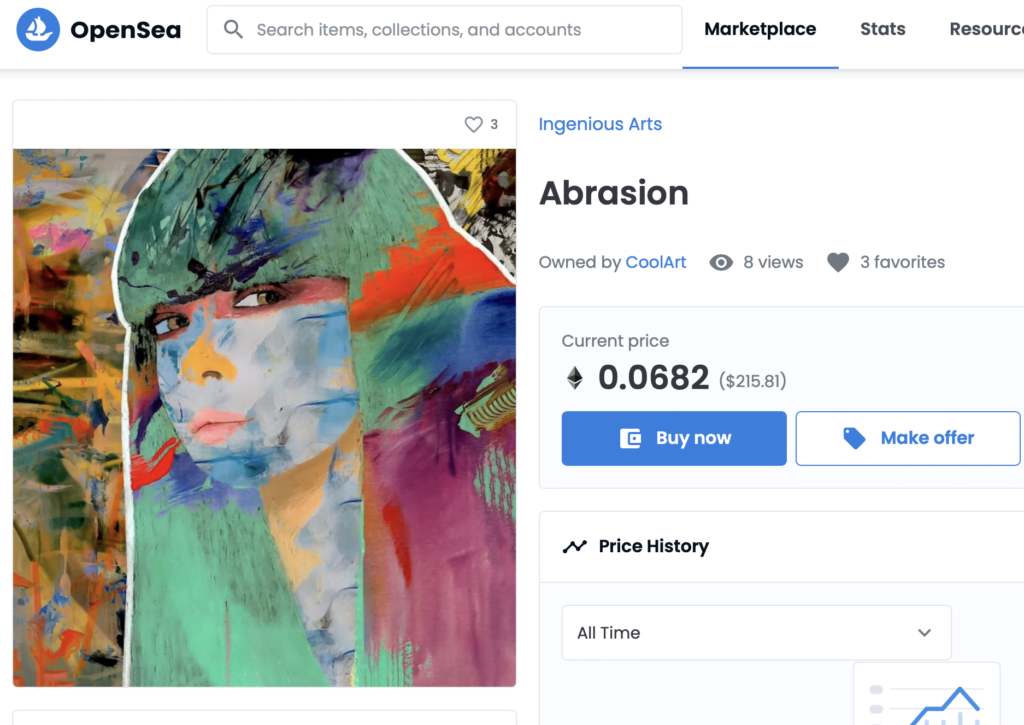 2. Once you find the NFT that you want to buy, click on it.
3. The price will be in ETH, but it will show you its cost in USD as well. If you are ok with the price, click "Buy Now."
4. You will be prompted to sign into your Metamask wallet. Click on "Sign in" and type in your credentials.
5. A "Complete checkout" window will appear showing you the total price of the NFT. Tick the "Terms of Service" box.
6. Click on "Checkout." A Metamask window will pop up giving you information about the Ethereum gas fee you'll have to pay in addition to the NFT.
8. You'll be taken to a page titled "Your transaction has started." There will be a link that says "View on Etherscan." If you click on it, it will give you information on the progress of your NFT transaction.
Don't worry if your transaction did not get executed immediately. It might take from minutes to hours before your transaction is accepted on the blockchain.
Once your NFT is confirmed, you can admire it by navigating to your profile icon on OpenSea and clicking on "My collections."
Once the transaction has been processed, you are the officially the owner of that NFT. Now you can leave it in your Open Sea account and wait until someone will send you an offer for it, or you can transfer it to your MetaMask wallet to keep it secured there.
Pros and Cons of NFTs:
Before NFTs, it was difficult to verify the authenticity of any digital media, as anyone would be able to copy and paste any file.
However, there are pros and cons of NFTs.
Pros
NFTs make it easy to buy and sell digital media online.
The blockchain technology makes it easy to verify authentic artwork and digital ownership.
NFTs can make collectibles such as trading cards more interactive and engaging.
Cons
The NFT spike has made prices for many collectibles extremely expensive, and they may lost their value in the future.
Such as cryptocurrency, If you don't store your NFTs properly, they may be at risk for being hacked.
Bottom Line:
Investing in NFTs in UAE offers a great potential for investing and can be a good way to diversify your portfolio. However, it's crucial to understand the risks associated with investing in NFTs.
There's no guarantee that the NFT value you purchase will increase, and there is a possibility that you will lose part or all of what you paid. Additionally, you need to make sure that you have a wallet that's compatible with the platform you choose, as explained in this article, also make sure that you understand what cryptocurrencies are accepted in any marketplace.
If you have some extra money and want to treat NFTs as an alternative investment, similar to collectibles, they might be worth considering.
Leave a Reply