The process to get a personal loan in Dubai is easy and fast as long as you have the required documents and meet the bank's special requirements.
However, do keep in mind that banks have the right to reject your application even if you meet all criteria, and they are not obliged to provide the reason.
Even though the requirements might be slightly different from a bank to another, there are widely common documents and requirements that almost all banks ask for.
In this article, we will explain everything you need to know about getting a personal loan in Dubai, UAE.
Required Documents: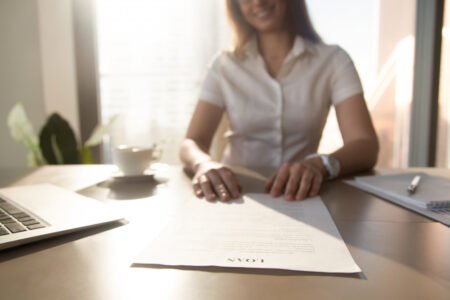 Even though the required documents may differ from a bank to another, the following documents are the main requirements banks in UAE normally ask for.
– Salary Certificate
– Bank Statement (3 – 6 months)
– Emirates ID (both pages)
– Resident Visa
– Passport
– Trade License (for companies only)
– Personal Loan Application
What is the Maximum Amount I Can Get for a Personal Loan in Dubai?:
As per the Central Bank of UAE, banks can give a maximum of 20 times the monthly salary of the person who's applying. For example, if your salary is AED 15,000, the maximum personal loan you can get would be AED 300,000.
But that's not all. As per the Central Bank of UAE, all debts and loans' monthly installments should not exceed 50% of the applicant's monthly income. 
For example, if your salary is AED 10,000, and you have a car loan where you are paying AED 3,000 every month, and you applied for a personal loan, the bank can only give you a limited amount (if you met the requirements) whereby the monthly installment of that personal loan is not greater than AED 2,000 per month, so both, car loan and personal loan installments don't exceed 50% of your income.
Repayment Period:
Normally the repayment period of the personal loans in Dubai is up to 4 years. You can apply for a minimum of 1-year loan and a maximum of 4 years.
What happens if I default to pay a loan in UAE?:
When applying for a personal loan, the applicant might be asked to submit a cheque to the bank as a security for the loan amount.
If you default to pay three consecutive installments or six non-consecutive installments of your personal loan installments, it might be considered a default.
In the case of default, the bank will submit the cheque, and most likely, it will be bounced because when the person stops paying installments, it's mainly because they don't have sufficient funds.
Once your cheque is bounced, the bank will file a police case against you. Previously, to have a bounced cheque was considered a criminal offense, but some changes occurred in the law in 2020 whereby bounced cheques are considered a civil offense, and you won't be arrested; alternatively, you will have to pay big fines.
If the bank filed a police case against you while staying in the UAE, a travel ban might apply to you since the immigration and police are well-connected.
If you went back to your home country or any other country before the bank files a police case against you, you would not be able to return to the UAE until you settle your debt and get the police clearance letter. Also, the legal action the bank has taken can impact you in any country you reside.
It's highly recommended always to contact your bank, explain your situation, ask for a debt re-schedule and set another payment plan. In the end, banks need their money back, and they will most likely be open for negotiations.
However, working with a lawyer is always a better solution than trying to fix the issue on your own. The lawyer will communicate with the bank or financial institutions on your behalf and advise you on the best way to settle this issue.
Can I Get a Personal Loan if My Company is Not Listed With the bank?:
Normally, medium to large companies in the UAE is listed in the UAE banks. Getting a personal loan in Dubai is simpler when the company you work for is listed with the bank. However, this doesn't mean that you will not get a personal loan if your company is not listed with the bank. Banks still do provide personal loans for employees in non-listed companies, but they do more background checks. Also, they need to make sure that you have a proven stable income over the past period.
Check your Credit Score before Applying for a Personal Loan:
The credit Score in UAE is tracked by Al Etihad Credit Bureau (AECB). It's calculated based on the person's credit history through multiple criteria such as your bill payment history, the level of debts you have, the credits' age, and the number of credits.
If you want to check your credit score, simply login to AECB.gov.ae to download your credit report and score. Register your details; provide your Emirates ID and passport number, make the payment, and you will receive the report by email within a few minutes. The cost of checking the credit score is as follows.


How Can I Improve My Credit Score in UAE?:
The credit score is always changeable, and with some simple steps, you can get a better credit score.
– Pay your monthly bills on time
– Reduce the number of credit cards you have
– Reduce your outstanding debts as much as possible
Leave a Reply